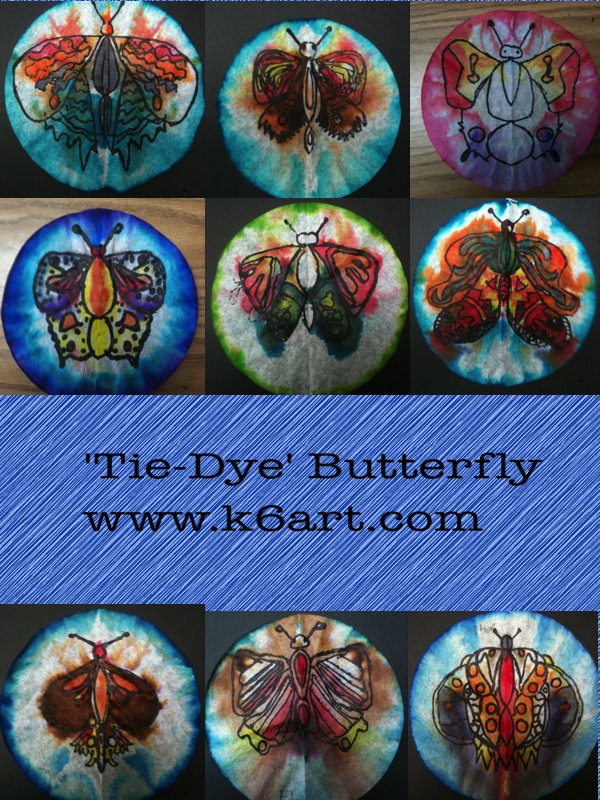 It's spring! Time for a butterfly art project. How about a lesson that delivers perfect symmetry, color and fun in only one 40-minute session?
Materials:
round (basket) coffee filter paper, white (available at the dollar store)
Sharpies
watercolor markers (we used Crayolas)
pencils
spray bottle of water
Instructions:
flatten coffee filter
fold filter in half.
use sharpie to draw 1/2 a butterfly on the folded paper.
Trace over all the Sharpie lines again (this helps transfer ink to the other half of the filter paper).
Open the paper. 
Re-fold the paper into its original position.
Color the folded paper using watercolor markers. We used warm and neutral colors for the butterfly, and cool colors for a band around the edge of the paper.
Place folded filter paper on drying rack, colored side facing up.
Spray with water. I try to saturate the paper (note: put some newspaper on the floor under your drying rack to catch the colored drips).
Let dry before removing from rack.
I love the faux tie-dye effect created by the diffused color. I also love the round format. Bonus: coffee filters are available at the dollar store! So this project costs a couple of cents.
Inspiration for the Sharpie/coffee filter/watercolor marker method goes to Kati Oetken at ARTASTIC!
More coffee filter art experiments on this post.