I just finished up a Peter Max Statue of Liberty project with my first graders.  To plan this lesson, I took a look at a lot of elementary-level Peter Max lesson plans on the internet. All my research is contained in the Round Up collage above.
Do you like this collage? Click on the collage. Hover over each image and you will see an arrow.  Click on the arrow to link directly to the lesson.
I made this graphic using a free website called ThingLink.  It allows users to make images interactive. I learned about ThingLink on the Free Technology for Teachers blog.
Here are some more resources you can use for your lesson:
Meet Peter Max:
Wikipainting.org has a great selection of Peter Max artworks, including a Liberty Head, psychedelic artwork from the 1960s, and Warhol-like portraits of famous people.
Our students watched Peter Max prep his canvases this EXCELLENT 2008 video from CBS This Morning. (Requires flash. Reading this on an iPhone or iPad? Click here)
Our Art Project: We ended up doing a two-day art project using  tempera cakes and black crayon on 12″x18″ sulphite and manila paper.
Day 1:Paint backgrounds in style of Peter Max. Students made patches of color, stripes or even polka dots.
Day 2: Use black crayon or oil pastel in directed draw of Statue of Liberty head. BE SURE TO TELL STUDENTS TO GO BACK OVER THEIR LINES SO THEY ARE THICK AND BLACK.
Here is one of our first grade artworks: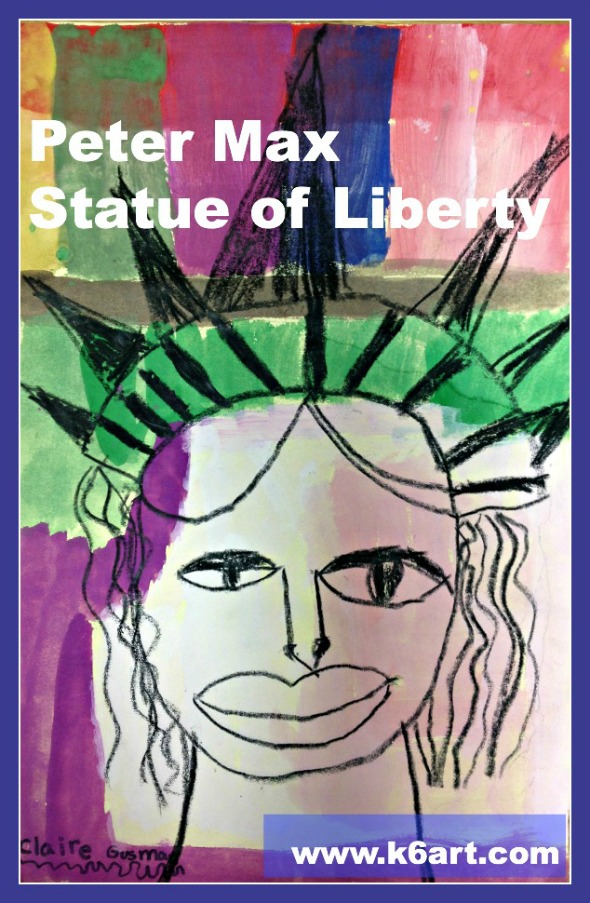 Enjoy!