Armed with camera-equipped iPads and iPods, our fourth graders spread out in our school garden in search of alphabet letters. Each student was assigned a letter to photograph.
It was interesting to see how they completed the assignment: some students found letters in the branches of trees, some created letters from stones and twigs. Some poured water on the pavement to draw their letter. If they were absolutely stumped (get it?) , I let them use a letter from the garden signs. I asked students to take 5-10 photos of their letter.
I am happy to report the fourth graders LOVED looking for letters. They were completely engaged, and helped each other.  I heard a lot of shouts of "I found a T! Who has T?"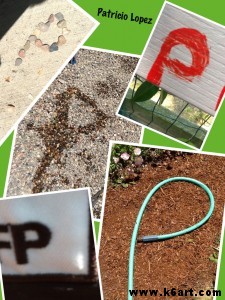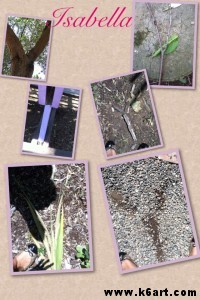 This week, students used their devices and the Pic Collage app to turn their best photos into a photo collage. I asked them to zoom in so that we could really see the letter – aim for making a letter so clear a kindergartener could recognize it. They emailed me their files and we reviewed them as a class.
Great work fourth graders!
Our fourth graders are in a pilot 1:1 iPad program, and it is a huge success. The goal is to turn all the photos into a free digital book downloadable through Apple's iBooks store.
Inspiration for this project came from www.alphabetphotography.com.
UPDATE: see the completed whole-alphabet collages in this post.