The kindergarten made their wheel drawings today.
This is one of those lesson plans that is perfect for a single 40-minute kindergarten class.  It takes no prep or clean up. Kindergarteners love cars and trucks. The use of circle tracers (various sizes of jar lids) for the wheels makes this lesson highly successful.
Materials:
white drawing paper
pencils and erasers
circle tracers: assorted jar lids, old masking tape rolls, etc.
crayons
reference photos of things with wheels (cars, trucks, wagons, bikes, etc.)
Instructions:
Show pictures of things with wheels.  Discuss how wheels are circles.  Look for other shapes (squares, rectangles) in the pictures.
Pass out paper, pencils, erasers and various sizes of circle tracers.  Ask students to draw something with wheels.  Remind them to add a background or road. After 10-15 minutes, pass out crayons and allow students to color in their designs.
Kindergarteners often draw themselves and family members in the vehicles.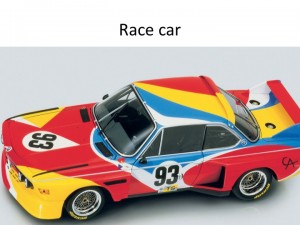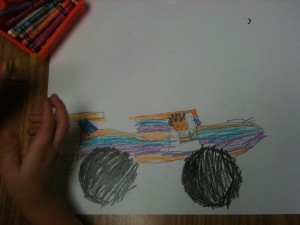 You may see drawings of all kinds of imaginary wheeled vehicles. Great!
I have a computer and projector in my art room and try to teach with powerpoints.  You can download my kindergarten wheels powerpoint here.
This would also be a great substitute lesson plan.
The kindergarten wheels lesson was inspired by this fabulous lesson on trucks and tractors at Deep Space Sparkle.