Sixth grade is making eraser stamps.
I learned the method from Geninne's Art Blog. Geninne has a fabulous tutorial on stamp-making including an instructional video. This assignment has two parts….1) create an abstract design stamp and 2) create a stamp based on your initials.
Part 1: Abstract Design
Materials:
Magic Rub vinyl erasers
Pencils
Paper (copy paper is fine)
Tracing paper
Popsicle stick or ruler
Lino cutter (student grade – we used the ones from this Soft Kut class pack)
Stamp pads
Watercolor markers (we used Crayola)
I teach this assignment with a packet of handouts…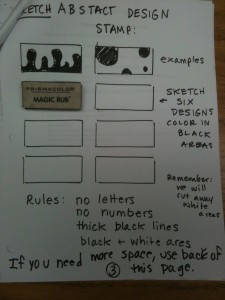 Explain to students we will be cutting away the white portions of their design…..since they are beginners, the design should be fairly simple. No letters, no words, no numbers!!!!
Here are some sketches…I have to approve their final designs before they cut.
After approval, students transfer design to eraser. Placed traced design 'dirty side down' on the eraser and rub with edge of Popsicle stick to transfer.
Carve eraser:
Rules:
Stay seated.
Keep eraser flat on the table.
Grip cutter as if it was a pencil.
Make shallow cuts, not deep.
Your cutting hand should stay low, close to the table. Your wrist can go up about an inch above the table.
Direct cuts away from your body.
Rotate eraser so that cuts are directed away from your hand.
Cut away white portions of design.
Printing:
Time to print! Students could use a stamp pad or color their erasers with watercolor markers (we used Crayola markers). The stamp pad method is quick, but the marker method allows more variety.
Student Results: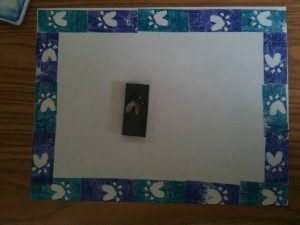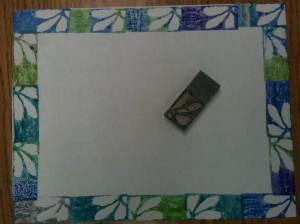 Many students said this was their favorite project ever!!!! They are clamoring to go on to part 2, a design based on their initials. To be continued!
It is also a special joy for me to see the 6th graders complete the project – I have had about 25% of these kids since they were 5 years old and learning how to write their names.
This printmaking project is also great opportunity to discuss art principles and elements: repetition, unity, and variety. It is appropriate for grades 6-12.