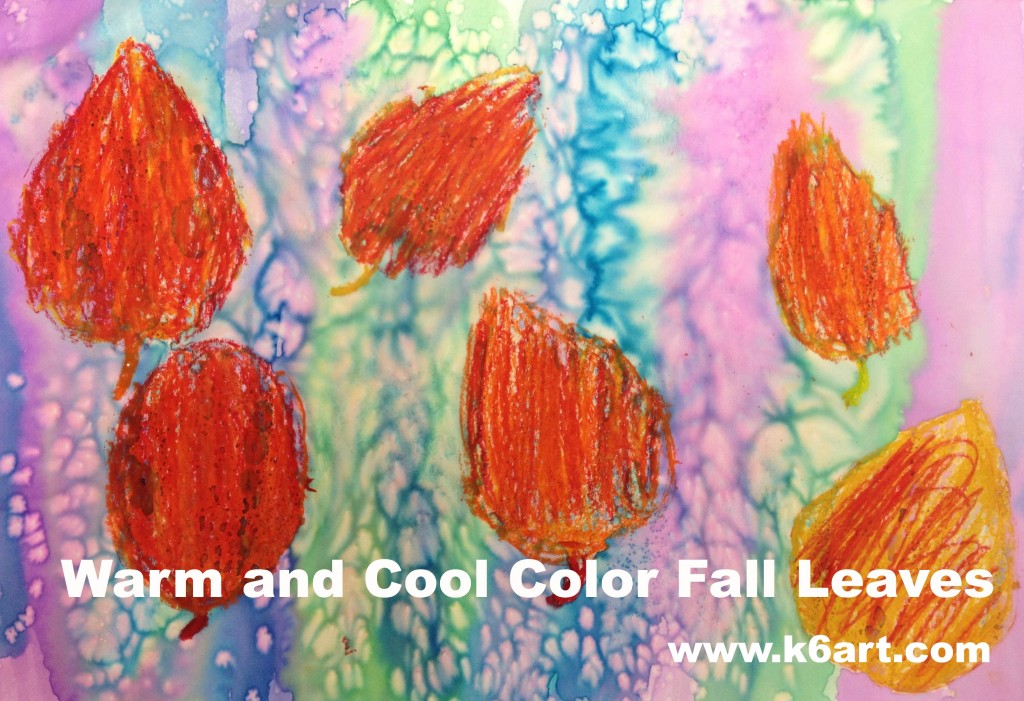 It's fall – time for a fall leaf project! This lesson takes just two 40-minute sessions and covers:
warm and cool colors
stenciling
organic shapes
positive and negative space
symmetry
Materials:
cardstock, cut into rectangles
pencils and erasers
scissors
white construction paper
oil pastels in warm colors (red, orange, yellow) (note: compensated affiliate link)
liquid watercolors in cool colors (purple, blue, green)
kosher salt (optional)
Session 1:
We looked at the silhouettes of fall leaves. We talked about the variety of leaf shapes. We discussed the difference between the organic leaf shapes and geometric shapes.
Next we created our stencils: students folded their cardstock, and drew a simple 1/2 leaf on the fold (note: don't bother with a stem in your stencil design).
About 90% of second graders were able to design and cut a simple leaf stencil independently on their first attempt. As an alternative, you could cut stencils for your students.

Once we created the stencils we noticed they were symmetric. We also defined the leaf-shaped hole as the negative space and the leaf piece as the positive space.
Students stenciled multiple leaves . Some swapped stencils with their friends. After stenciling, they added a stem line to each leaf.
Session 2:
Students painted the leaves with liquid watercolors. They loved to see the oil pastel resist the paint. After painting, they had the option of sprinkling kosher salt on their wet art before placing their art on the drying rack.
Second grade results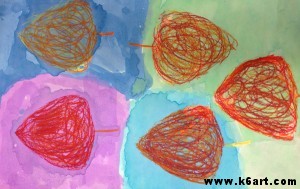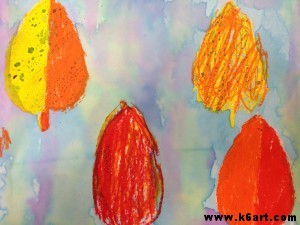 The project was extremely successful. The students really enjoyed the process, and reviewed a lot of art concepts.
This lesson was inspired by  this post on Kids Art Market and this post on Use Your Colored Pencils.
Do you have a favorite fall leaves project?