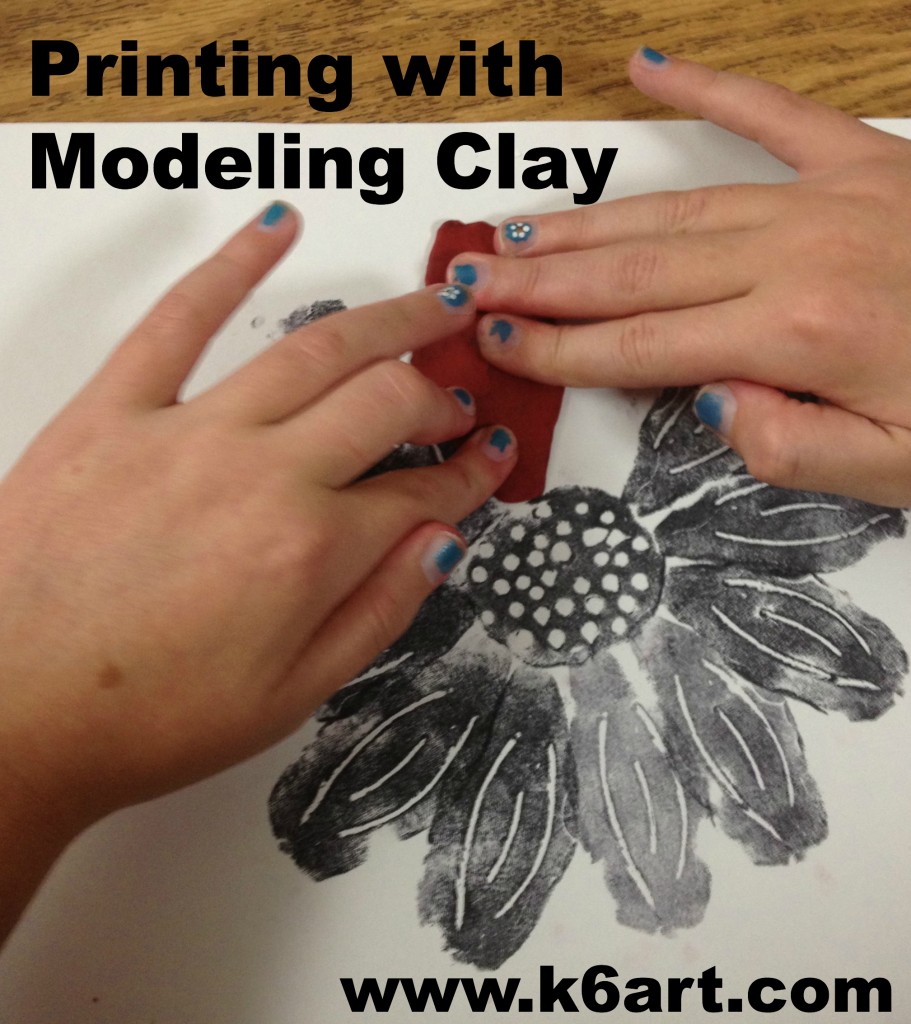 Would you like to try a creative printmaking project? Something inexpensive, that can be done quickly and easily with no fancy tools or equipment? Try printing with modeling clay. This brilliant lesson from the Filth Wizardry blog was a huge hit with our fourth graders.
Materials:
Modeling Clay, AKA plasticine clay (note: I got a pack of 24 sticks of modeling clay at my local dollar store)
black stamp pads
bamboo skewers
paper
colored pencils
pencil and eraser
circle template
paper to cover table
Class 1: Experiment with modeling clay stamp printing
Our fourth graders began their printmaking project by experimenting with the clay stamp printing. They made a variety of marks on the clay, pressed the clay onto a black stamp pad, and printed on a piece of copy paper.
They printed clay coils and spirals. One boy took an imprint of the sole of his shoe and printed that! Another created a clay pretzel. They created clay hearts and alphabet letters. After a few prints, they smooshed the clay and started again. It was fabulously fun.
Clean up is easy. Since modeling clay never dries out and is reusable, we just placed the stamp pads, clay balls and skewers in our table bins until next class. We used baby wipes to clean the clay (but not all the ink!) off hands after class, then used the wipes to scrub any clay that might have got on the table.
Class 2: Print a sun or sunflower
We began the session by viewing a brief video of sun art  from CBS-TV Sunday Morning.
Student used the templates to trace a circle in the center of the paper. Then the fun began!
The fourth graders used the modeling clay to create facial feature stamps, sun beam stamps, petal and leaf stamps.
After printing, they colored their prints with colored pencils.
Optional finishes:
Class 3:
Paint completed print with tempera cake:
This example is printed with ink pad, colored with colored pencil, then immediately painted with tempera cake. The sheer paint looked great over the print but did not cover stray ink fingerprints. And some had A LOT of stray fingerprints.
If you want a clean look to ALL the finished artworks, you may want to have students cut out their colored work and mount to colored paper.
Have fun! Your students are guaranteed to love printing with modeling clay!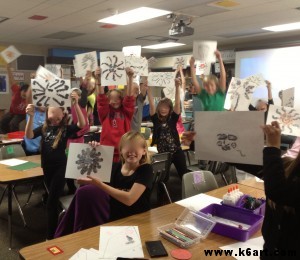 Thanks for visiting! Don't forget to please vote for 2012 Art Ed Blog of the Year, which you can do by clicking this link and voting for K-6 Art! Voting open through December 14, 2012.