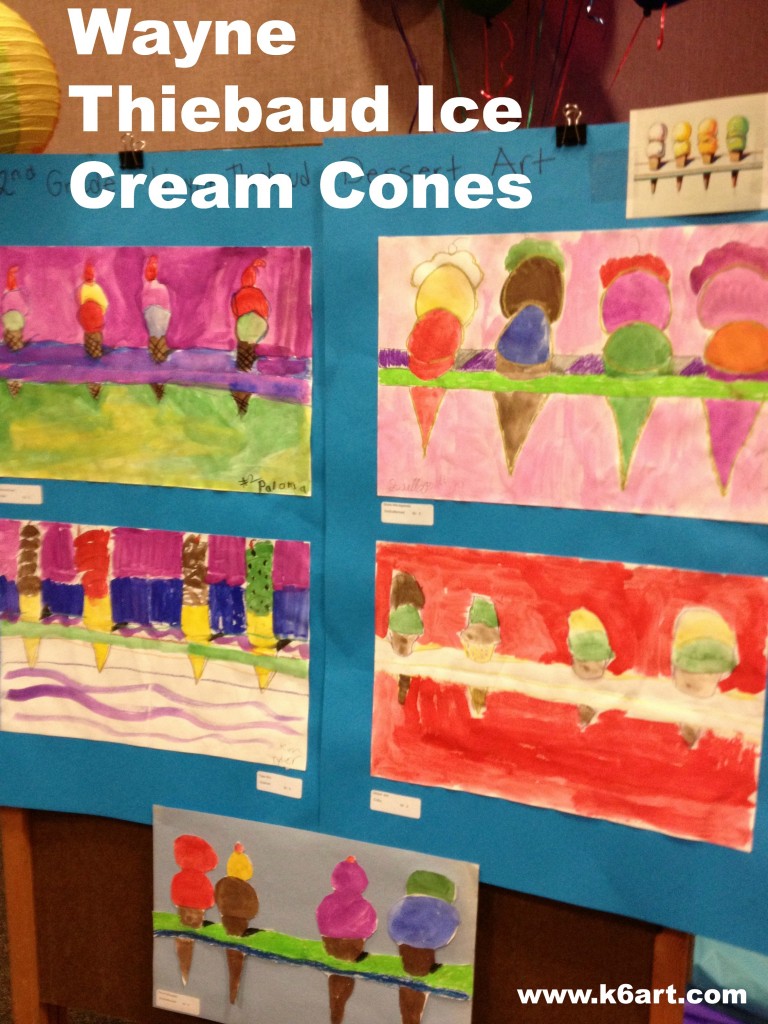 Summer is almost here. Why not try a warm-weather twist on Wayne Thiebaud with an ice cream art lesson? Check out these ice cream cone lessons using paint, collage, papier-mache and more.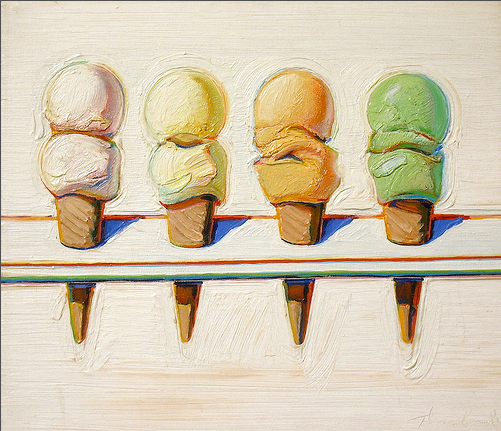 Directed Draw/Paint:
1. I discovered an entire Wayne Thiebaud unit at the fabulous Danish Fru Billedkunst ("Mrs. Fine Art") blog. Click here for her step-by-step ice cream cone drawing diagram.
Our second graders began by folding their paper into quarters. The horizontal fold became the table edge. Students drew two cones on each side of the vertical fold. We used crayons and tempera cakes. Students had the option of painting a background, or cutting out their art and gluing it to construction paper. They looked so beautiful at our school art show (see photo at top of post).
Here are some more interesting ideas for Thiebaud-inspired ice cream fun:
Collage:
2. Miss Young's Art Room has a simple ice cream collage for kindergarten
3. ARTASTIC! has a torn paper collage that would be great for using up all those paper scraps at the end of the year
Templates:
Group project:
5. Kids Artists has a whole-class painted paper ice cream cone collage.
Papier Mache Sculpture:
6. Phyl's There's a Dragon in My Art Room blog has an awesome papier-mache ice cream cone sculpture project using a paper water cone, newspaper, masking tape and art paste.
More resources
My Wayne Thiebaud Powerpoint includes repetition of simple shapes, variety, use of thick paint, horizon line and shadow.
I always show my ancient (circa 2000!) Behind the Scenes with Wayne Thiebaud [VHS]
 – it includes Mr. Thiebaud drawing an ice cream cone. Oh, why can't I find a DVD or digital version??
Wayne Thiebaud video from CBS
Whatever project you choose, your students are bound to have fun!
Enjoy!
Do you have a favorite ice cream cone project?