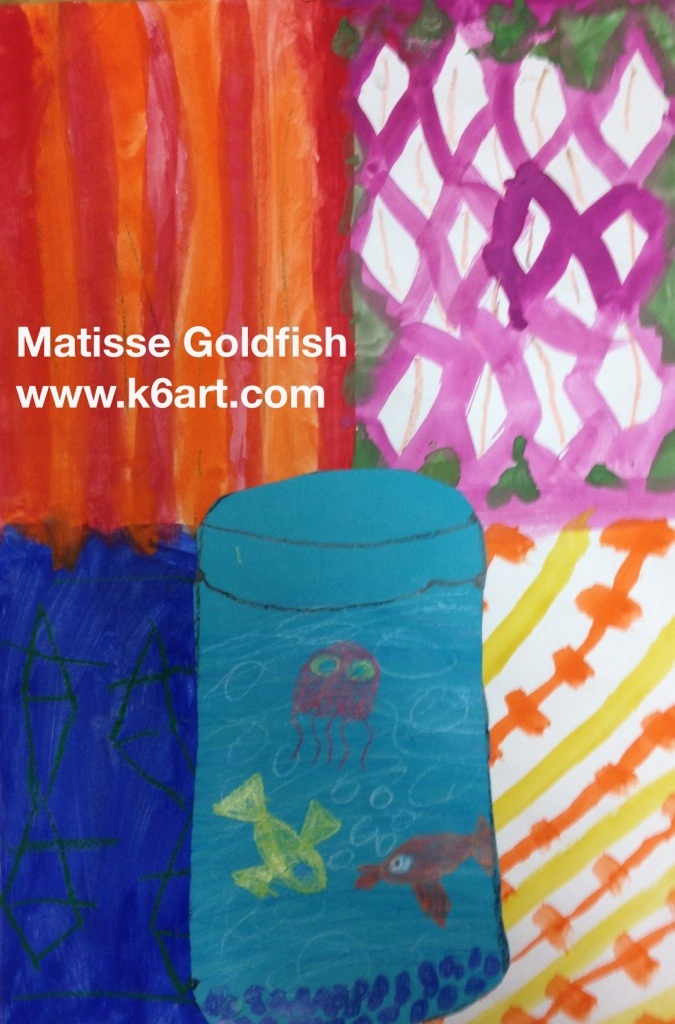 I love to create Matisse-inspired art projects with kids. Matisse's paintings are full of color, pattern and energy. Here is a project that combines features of two of his famous paintings, Woman in a Purple Coat and Goldfish.
Day 1: pattern hunt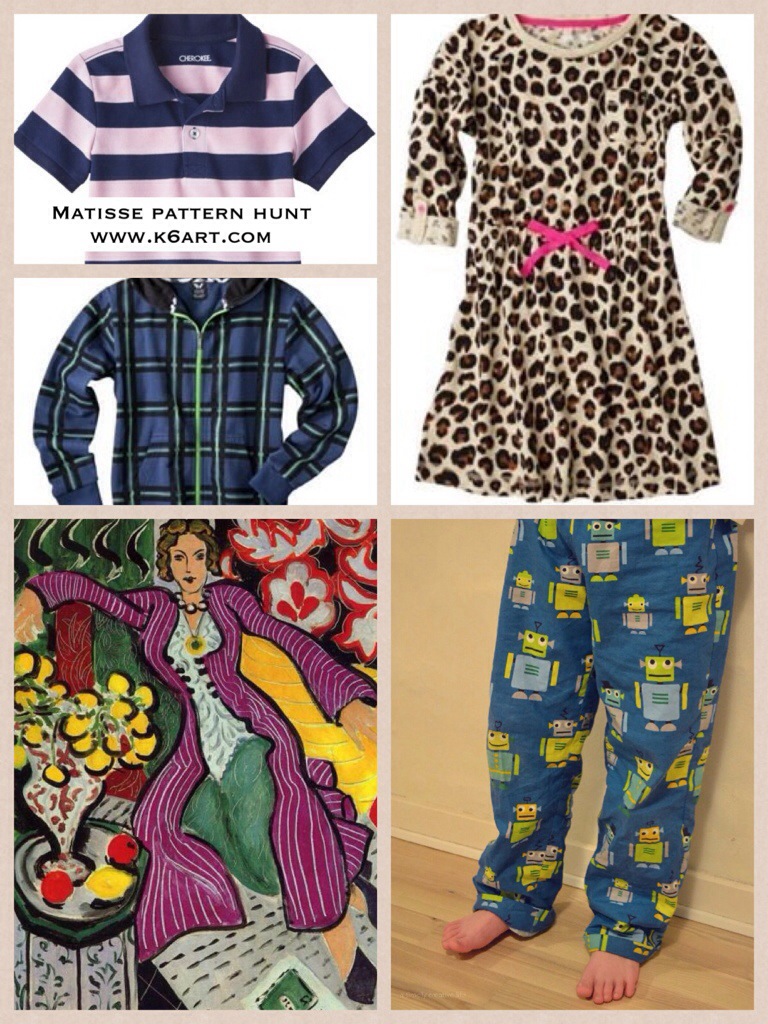 We begin with a 'pattern hunt.' I look around the room and find kids wearing patterned clothing. They stand up and we discuss their patterns. Then we take a very close look at Matisse's Woman in a Purple a Coat, and tally up all the patterns one by one. I can't tell you how excited those first graders became when they identified the patterned curtains and wallpaper in the painting. They tallied up 13 patterns, including the fruit on the table.
Day 2: create patterned paper
Materials:
White paper 12″x18″
Tempera cakes
Water cups, brushes
Oil pastels or construction paper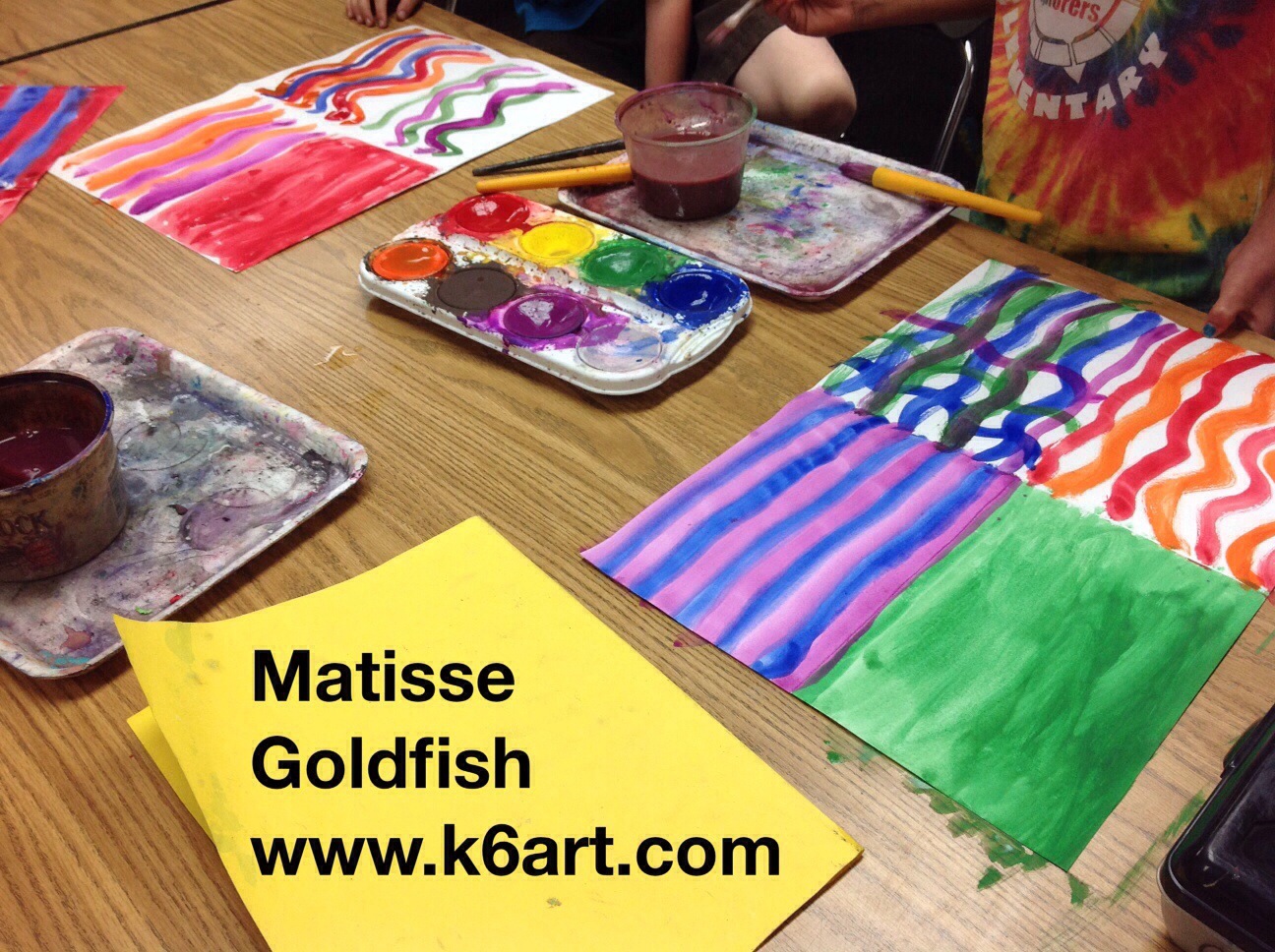 Here is a fast way to create four patterns. Fold the white paper into quarters and open. Using tempera cakes, paint one quarter a solid color. Paint the remaining quarters with patterned lines (wavy, zig zag, etc.). Now take oil pastels and create a pattern on the solid quarter. The tempera cake dries so quickly you can draw on it in just a few minutes. Add oil pastel patterns to the remaining quarters. Place on drying rack.
Day 3: create a goldfish bowl
>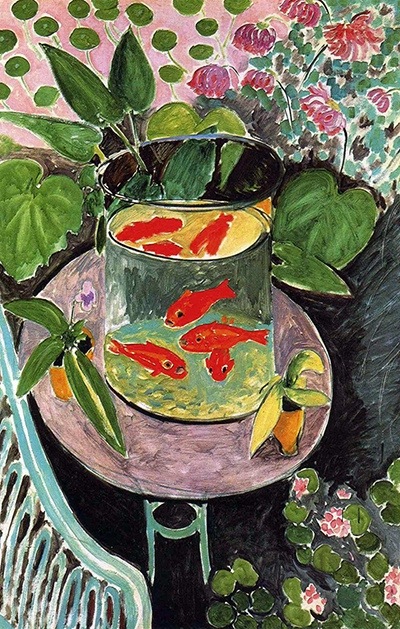 Materials
Blue paper, 6″x10″
Oil pastels (or construction paper crayons)
Scissors
Glue sticks
Turn blue paper vertically and draw a 'rainbow' at the top using a black oil pastel. Draw a 'smile' under the rainbow. Cut along the top line to remove the corners and create the look of a round vase edge.
Add goldfish or other aquarium creatures. Glue to patterned background paper with glue stick.
First Grade Results:
>
Do you have a favorite Matisse lesson?
>