These beautiful chalk pastel stencils take only one 40 minute session!
Materials:
Chalk Pastels
Stiff brush (we use our old tempera brushes)
scissors
construction paper for background (we used white 9″x12″)
construction paper cut approx. 4″x6″ for making stencils
optional: ready-made stencils
Instructions:
Fold the small rectangle in half. Draw a half heart on the fold and cut out.
Now take the stiff brush and brush the colored pastel into the stencil 'window'.
Lift up the stencil. Students will ooh and aah if they have never tried this process before! Now shift the stencil and repeat the process.  Encourage students to overlap.
Now take the positive shape and color the edge with pastel. Place on the background paper, and brush the color outward onto the paper.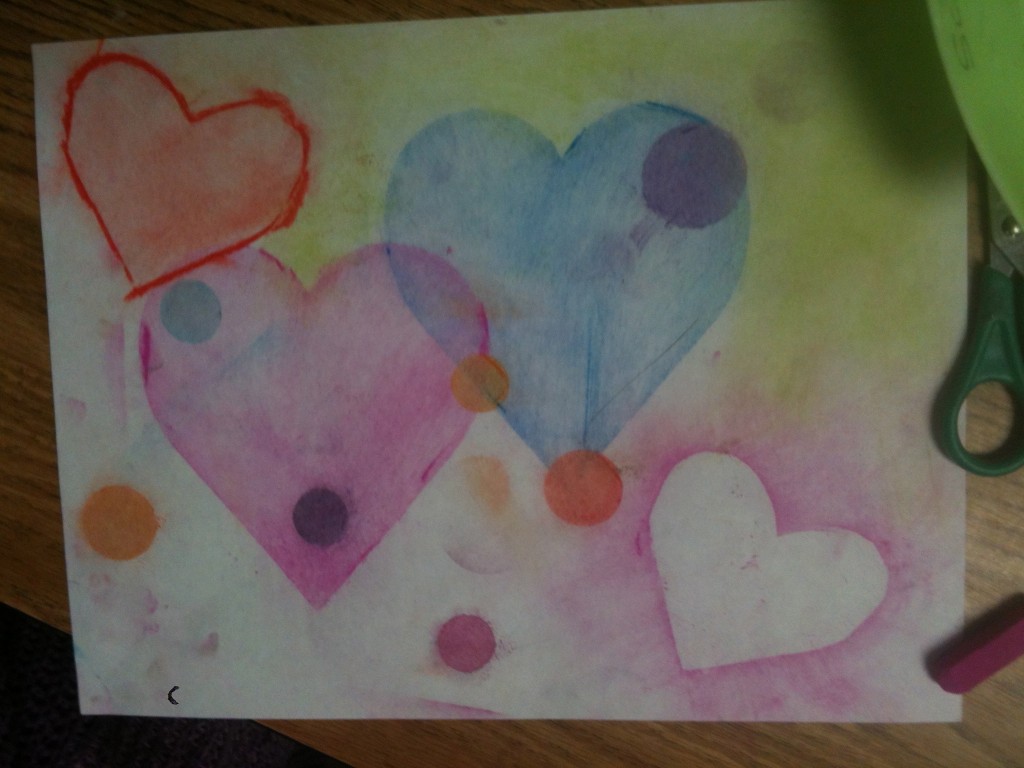 We reused our die-cut stencils for three classes. We just colored and colored again around the edges. Tell the students to relax – it's going to look beautiful.
This method would be very interesting with cut paper snowflakes or doilies.
Minimize the mess: ask students to tap their excess chalk pastel dust onto a piece of newspaper.
What to do with all those used colorful stencils? Try this used stencil collage project. Double the art fun!
This method came from the San Diego Museum of Art  2010 Educator's Art Fair. The lesson can easily be adapted for all grades K-6.