Trompe l'oeil means 'fools the eye' in French. Maybe you have seen a painting or sidewalk chalk art that looked so real you felt you could walk right into it. I just came from MCASD's extraordinary LIFELIKE show which features trompe l'oeil sculpture (and painting) of everyday items. It is one of the rare museum exhibits I've seen that is perfect for children of all ages! Here are a few pieces.
Ai Wei Wei's Sunflower Seeds:
These sunflower seeds are unbelievably real, even close up. They are porcelain, hand painted with slip.
Not your everyday bag: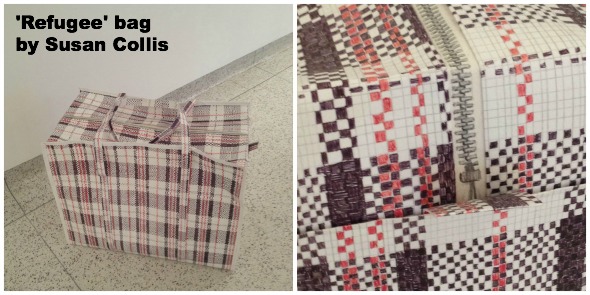 Susan Collis' bag looks so ordinary – something you'd use to carry your laundry. Look closely – it is not woven, but constructed of paper meticulously colored with ballpoint pen and graphite. WHOA.
Hyper-realism on a different scale:
Ron Mueck makes hyper-realistic sculptures of people. The scale is off – this crouching boy is too small. Mueck uses polyester resin for the skin – you can see every toenail and wrinkle.
A 'working' elevator:
Maurizio Cattelan's tiny elevators are really popular. The doors open with a ding and close with a tiny thud. Folks were crowded around the artwork waiting for the doors to open.
LIFELIKE originated at the Walker Art Center in Minneapolis.  It closes at MCASD on May 27 and reopens in Austin, Texas in June. If you are in town, check out the museum AND TAKE THE KIDS!
p.s. to San Diegans: The Museum of Contemporary Art San Diego (MCASD) always has FREE admission to everyone under 25!
Want to see even more? Check out this 5-minute video.
Enjoy!