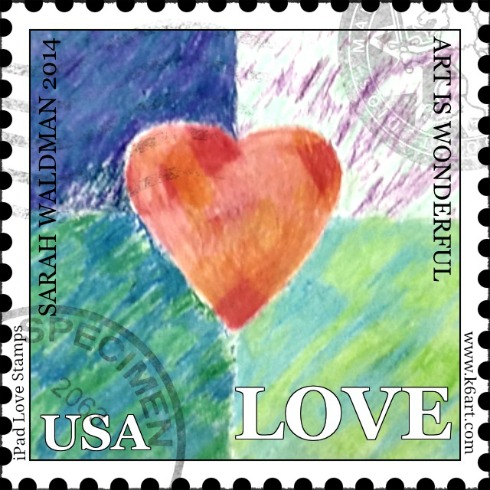 In honor of Valentine's Day, our fourth graders created iPad LOVE stamps using the free Face on Stamp Booth app.
What are Love Stamps?
For 40 years, the U.S.Postal Service LOVE stamp series has featured a wide range of subjects, including flowers, Victorian lace, cherubs, swans, candy hearts, and abstract designs. I showed our students the U.S. Postal Service love stamp slide show. Then I told them we would be creating our own LOVE stamps!
Step 1: Create heart art
We started with a fine art project. We used oil pastels to create these hearts.  Instructions in my free Jim Dine heart art Keynote. This step took two 40-minute sessions.
Step 2: Use iPads and Face on Stamp app
After the students finished their heart drawings, they photographed their art using the Face on Stamp Booth app. Next they added text. I encouraged students to add text found on real postage stamps, such as USA, Forever, Love, date, and stamp price. A lot of kids added their favorite activities (soccer, archery, golf, cheer, basketball etc.) Click here to see even more iPad Love Stamps in our Artsonia gallery.
Step 3: Create a collage ('sheet of stamps')
After completing their iPad love stamps, students emailed them to me. I created a grid of the photos using my computer and the free Pic Monkey collage maker. You could also use an iPad and the free Pic Collage app.
End result: wow! Students were very pleased both with their heart art and with their iPad love stamps.
Happy Valentine's Day!
Enjoy!
  Do you have a favorite art project for Valentine's Day project?