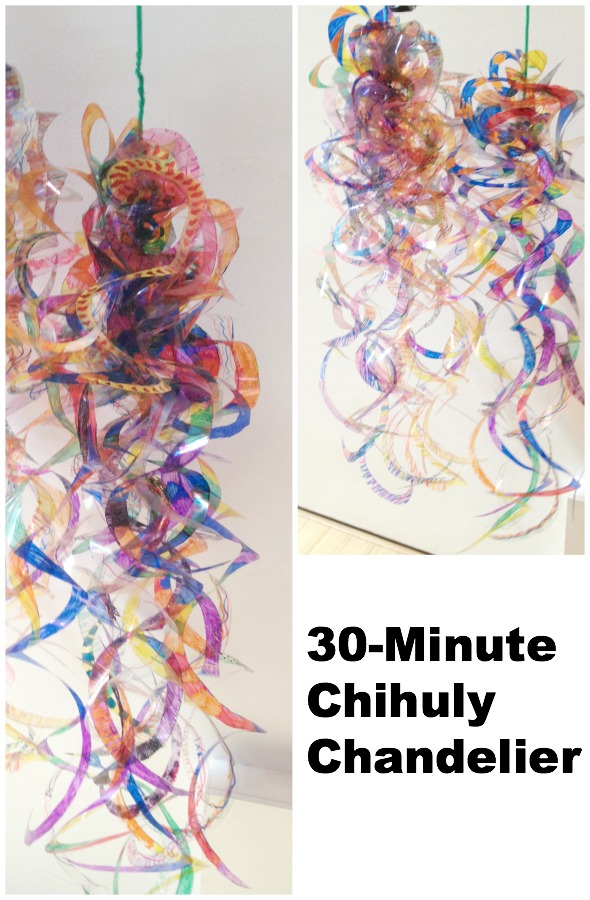 Dale Chihuly makes fantastic, organic-shaped glass sculptures.  They are in collections all over the world. This summer I saw the Chihuly chandelier at San Diego's Mingei International Museum and participated in a group art project taught by art educator Jackie Hwang.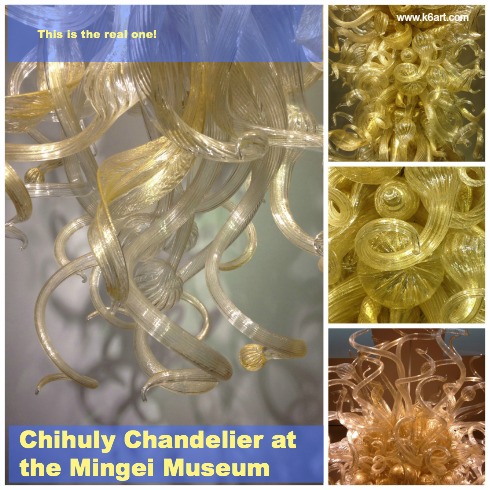 Materials:
Overhead transparencies (like these  – make sure they are made for photocopiers)
photocopier
colored permanent markers (colored Sharpies or Art Color permanent markers)
scissors
pipe cleaners for assembling chandelier
UPDATE: single-hole punch
UPDATE: OPTIONAL rubbing alcohol and cotton balls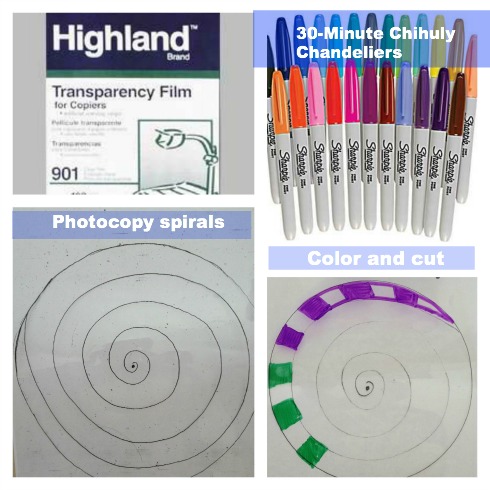 Prep:
Jackie photocopied a spiral onto overhead transparencies. She made two sizes of spirals – a full sheet size, and a half sheet size containing two spirals.
The Art Project:
Families colored the spirals and cut them out, then turned them in to Jackie for assembly. Coloring time depended on the complexity of the design (but took FAR less than 30 minutes).
Assembly:
UPDATE: carefully punch each spiral on the tiny dot at the center of each spiral.
UPDATE: OPTIONAL: You may experiment with smearing the spirals with a cotton ball lightly dampened with rubbing alcohol. This will cause the colored sharpie to smear and blend. It's a different look, and it takes extra time. Totally optional!
Jackie created the chandelier form using a mix of the large and small spirals. She used a couple of pipe cleaners to suspend the spiral clusters.
Jackie's project is perfect for grades K-6. It would be super for art teachers on a cart, or art teachers that teach at multiple schools. You could fit the photocopied transparencies and all the other materials you need for this project in a tote bag.
Here is a 4-minute video of Dale Chihuly from the CBS morning show
Special Notice for San Diego Teachers and Parents:
Teachers: Do you want to take your class to the Mingei Museum? The Mingei provides free admission for all K-12th grade tours as long as they're scheduled in advance.
Parents: The Mingei is free to San Diego county residents and military the third Tuesday of the month. Monthly Family Sundays offer admission and fun activities for just $5/family. Go to www.mingei.org for more details.
Coming up in the next post: two more Chihuly-inspired projects.
What's your favorite Chihuly project?