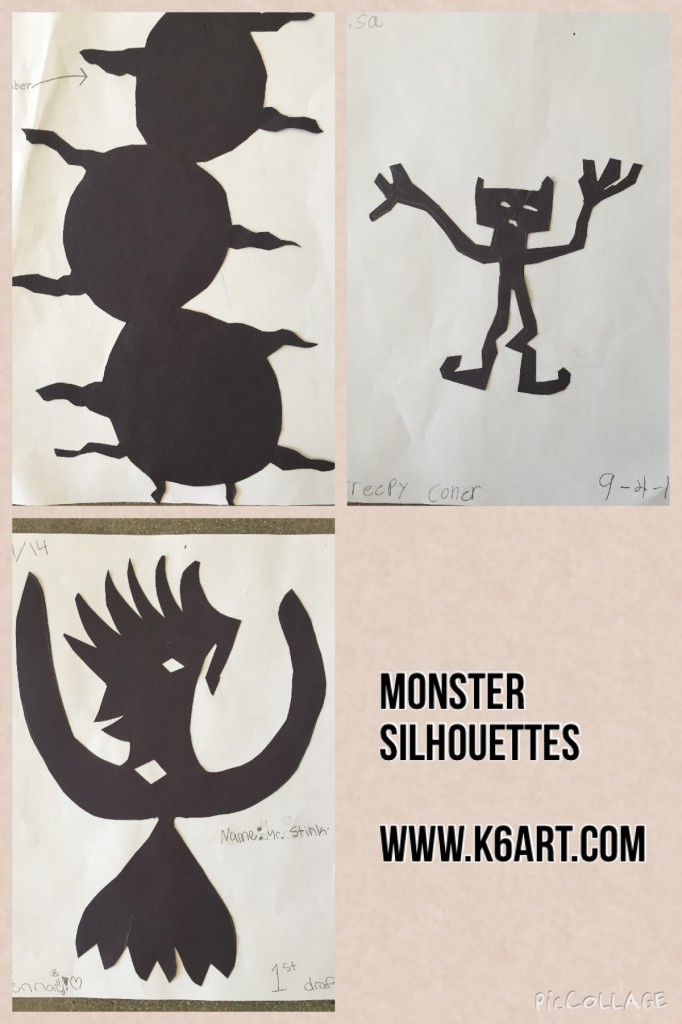 Our fifth graders just created these fabulous monster silhouettes. They learned how contour, organic shape and negative space contribute to an interesting design.
Materials:
black construction paper
copy paper
scissors
glue stick
pencils, erasers
'Monster Mash'
We began by looking at the illustrations in the book Monster Mash
 by Mimi Maxwell. The monsters are all in silhouette. We discussed organic (free form) vs. geometric shape. We also noticed the most interesting monsters had pointed or swirling body parts.  Many had cut-outs (aka negative space).
Create the monsters
Students did a couple of thumbnail sketches, then drew their monsters on black paper. Remind your students to design large monsters with interesting body parts and cut-outs. The most common problem is when a student draws a tiny, perfect monster that is too small to cut out.
Use glue stick to mount on copy paper.
I got this great lesson plan from art teacher Grace Hulse. Grace recommends this project as an introduction to a shadow puppet lesson. Click here to see more about Grace's shadow puppet workshop at NAEA14.
Enjoy!