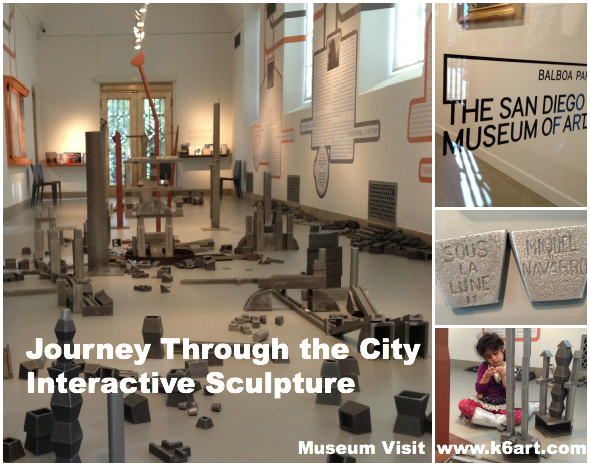 It's winter break here in San Diego, and I celebrated with a trip to the San Diego Museum of Art. I enjoyed a FABULOUS, fun, free exhibit that will definitely appeal to children: Beneath the Moon II: Journey through the City by Miquel Navarro. It is an interactive sculpture/game/artwork made of 1000+ pieces of cast metal, ready to be assembled by visitors of all ages.
Navarro created this artwork in 1994 for the Pompidou Centre in Paris. Since then, it has toured the world, delighting children in Europe, Asia and Mexico. Here is a video of French school children enjoying Beneath the Moon.
Discussion:
What can you do in the art room to tie into Beneath the Moon II: Journey Through the City? You may want to start with a discussion. What is a city? What do we see in the city? We might see houses, factories, roads, trains, freeways, rivers, bridges or skyscrapers. Swimming pools and skate parks! Do cities stay the same forever or do they change?
Lesson Ideas:
If you visit:
The exhibit is open during regular Museum hours through April 30, 2013. There is no charge for this special exhibition, located in the new Welcome Gallery on the first floor. For docent-led school tours and group visits, click here.
The San Diego Museum of Art is located in beautiful Balboa Park, home to 15 major museums, the world-famous San Diego Zoo, theaters, gardens and much more.
A final tip: allot some time….YOUR KID WON'T WANT TO LEAVE!!!
NOTE TO SAN DIEGO COUNTY TEACHERS/ART TEACHERS, K-12
Would you like to see your students' artworks exhibited at the San Diego Museum of Art? Young Art, the Museum's exhibition of local student art, opens April 13, 2013.  The theme is 'The Story of Me'. This is a juried exhibition.  Click here for more information. The deadline for submission is February 9, 2013.