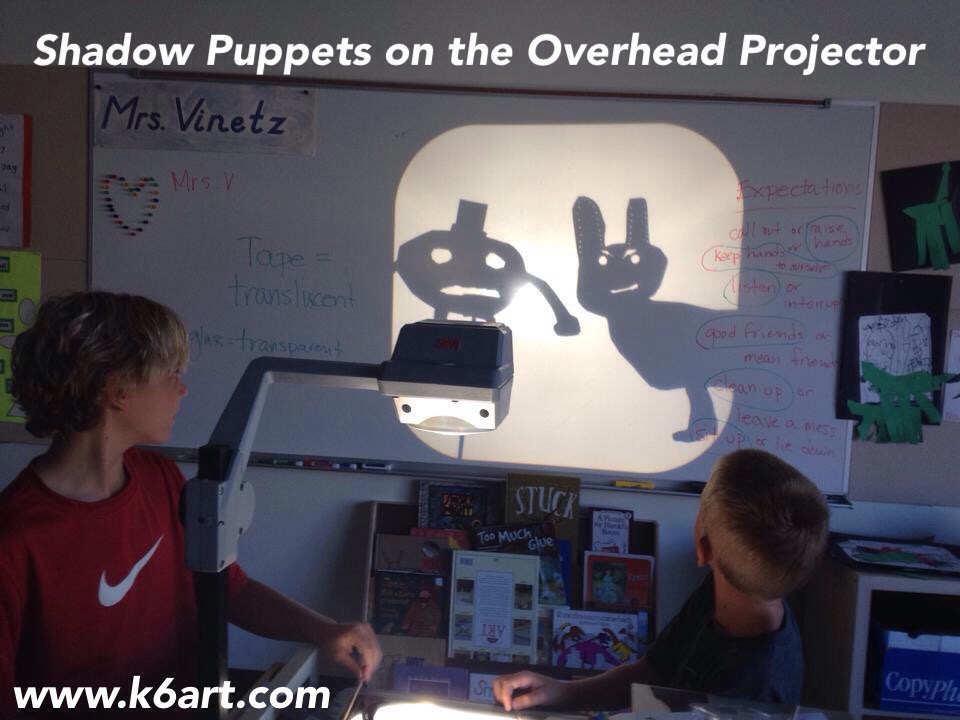 Our fifth graders just completed a shadow puppet unit. We had a lot of fun creating shadow puppets and performing with them on our old overhead projector.  If you've got one (or more) of these old projectors at school, grab them! Your students will have a blast making shadow puppets.
Materials:
overhead projector
tagboard or construction paper
pencils/erasers
scissors
bamboo skewers
tape
decorative punches
push pins
wax paper
overhead transparencies
colored Sharpie permanent markers
Create a puppet:
Draw a character on tagboard or paper. Encourage kids to make puppets with interesting silhouettes. Cut out. Use the punches to add a decorative edge. Students can also cut out slits or interesting shapes within the puppets. They can also pierce the puppets with a push pin to make tiny dots of light (look carefully at the octopus below to see this effect). Tape on a bamboo skewer and you are ready to go!
You can learn to create a shadow puppet show step-by-step in the book Worlds of Shadow: Teaching with Shadow Puppetry
. The book has great direction for making puppets with movable joints as well.
Backdrops:
Wax paper:
We used wax paper as a backdrop. It makes a smokey, translucent shadow when placed on the overhead projector. We used cut wax paper to make ocean waves and torn wax paper to make mountain tops.
Overhead transparencies + colored Sharpie:
Students made a lot of beautiful backdrops on transparencies. Here is a brief video that shows the vibrant color:
I wrote about part one of our shadow puppet unit in this post.
I learned how to create shadow puppets from Baltimore art teacher Grace Hulse – you can see Grace's shadow puppet Prezi and video in this post.
Enjoy!