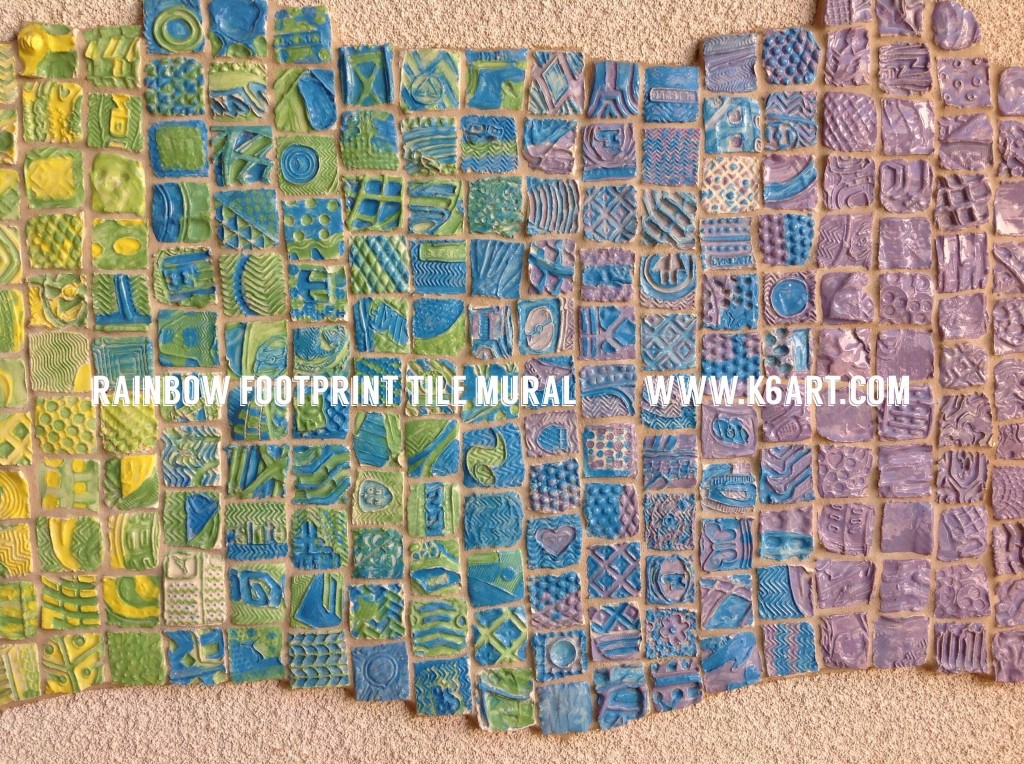 Thinking about a mural project? If you want a mural that is engaging, beautiful and enduring, consider this rainbow footprint tile mural. I used Craig Hinshaw's Rainbow Footprint Mural lesson from Pottery Making Illustrated July/August 2004.
Materials for the tiles:
Low fire white clay
square viewfinders
pin tool or opened paperclip
underglaze in colors of the rainbow
small brushes
clear glaze
your shoes!
optional – for lettering: magnetic letters (refrigerator magnets), alphabet pasta
Creating the footprint tiles
We followed all the directions in the magazine article. The students were THRILLED to stomp their foot down onto a ball of clay.
Cutting the tile though the viewfinder opening was a bit of the challenge for the younger students. Instead of neat squares, we had a lot of irregular shapes. These tiles had to be remade, but it only took a few extra minutes. I had extra sixth grade volunteers on hand to help cut out the tiles for the kindergarteners.
 Creating Text
We created text two ways: 1) large text was created by pressing magnetic letters into clay, and 2) small text was created by pressing alphabet pasta into clay.  (Don't worry – the pasta burns out in firing).
I did this mural with the students of Solana Santa Fe School. We prepared all the tiles and had them professionally installed on an exterior stucco wall.  Eight years later, it is still standing and looking great!
Another school in our district did a twist on the same mural project. Artist (and parent) Christie Beniston create a rainbow footprint mural with the students of Skyline School. Click here to see this mural. Note the rectangular and circular tiles.
If you are planning a whole-school mural, consider this project. The kids LOVED making the tiles. Each tile is uniques, just like our students. They mural is beautiful to look it and fun to touch. After it is installed, kids will look for their shoe prints. It is a permanent reminder of unity in the school community.
Enjoy!