20 7월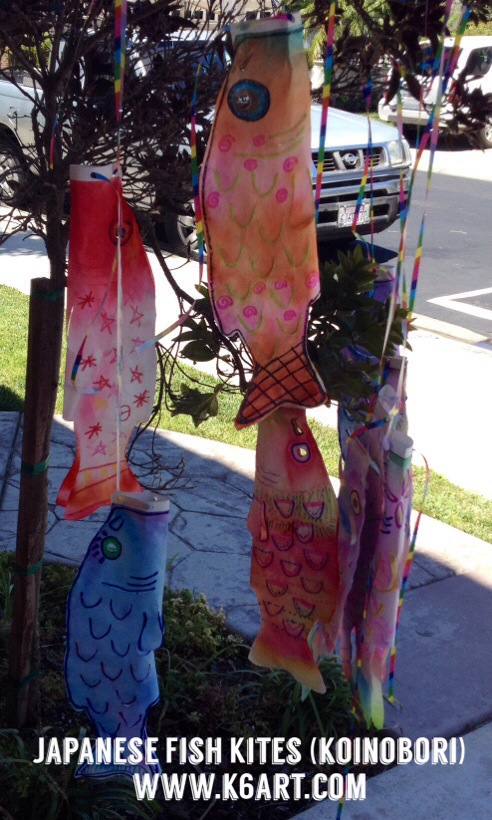 무엇인가

koinobor
i

?

Koinobori are carp (koi) kites that are flown in Japan on Children's Day (May 5th). The koi fish embodies the qualities that parents want for their children: courage, strength and determination. The holiday was formerly known as Boy's Day, but now celebrates all children.

We learned about Children's Day in the book I Live in Tokyo
by Mari Takabayashi. The book covers Japanese holidays month-by-month. In Japan, families display koinobori on a flagpole: the top black fish is the father, the red fish is the mother, and the smaller fish are the children.
Koinobori are also flown in large group displays, as in this video. I love when the wind hits and koinobori actually look like they are swimming upstream.
예술 프로젝트:
I saw this fabulous, simple koinobori project on Cassie Stephens blog. 여기를 클릭하십시오 for Cassie's detailed instructions and gorgeous photos.
자료:
colored Sharpies

오일 파스텔 (

especially white

)
수채화 마커 (우리는 Crayola 마커를 사용)

and/or

수채화

Ziploc bags

,

two per fish

,

taped together to create a long rectangle

테이프
스프레이 병

white glue or hot glue

clothespins

(

to clamp the mouth until glue sets

)
홀 펀치

ribbon or yarn for hanging
명령:
Decorate paper kites with colored Sharpies and oil pastel
Kids drew patterns, outlined eyes and scales, and created a border with oil pastels and colored Sharpies. To create white areas, color with white oil pastel to create a resist.
Color selectively with marker and watercolor
Next they added a some color with Crayola markers and watercolors. I emphasized they didn't have to color in the whole fish as the markers and watercolors would diffuse when sprayed with water.
물을 스프레이
Then the kids placed their kites on the long Ziploc 'placemats' and sprayed them with water. Some carefully tilted the setup so the colors would diffuse in a certain direction. Let dry on mats.
Glue and hang
After drying, I used hot glue to assemble the kites. I attached the cardboard strips that support the kites open mouth, and clipped each with a clothespin until set. I also used hot glue to close the back and part of the tail. 최종적으로, we added three single hole punches to the cardboard mouth, and strung the kites with ribbon. All the instructions are included in the Roylco kit.
즐겨!
This project was part of my 'Let's Go To Japan' 예술 + 요리 캠프. Here are our other art and cooking projects:
Suminagashi

marbled paper

Origami Cloisonné Collage

Koinobori

charms

Beckoning Cat

(

Manaki-Neko

)

charms

Japanese banana/strawberry/vanilla crepes

Decoben

decorated bento box lunches
Plus tons of kids books about Japan!
Thanks to Dahra and Ilana, our fabulous teenage helpers for all their assistance at camp