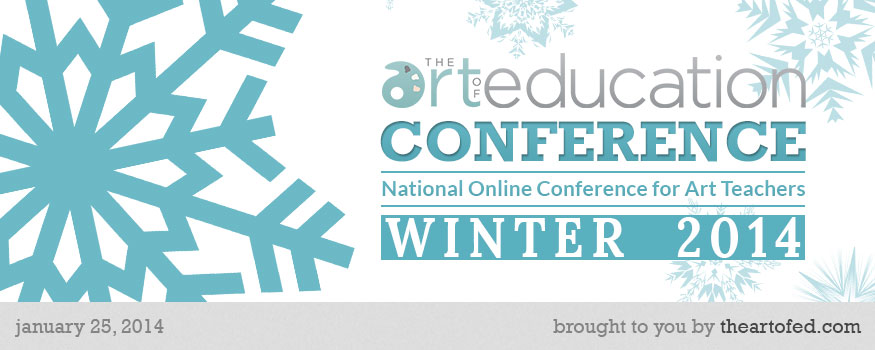 I'm excited about the upcoming Art of Ed Online Conference for art educators. It's on January 25 from 10:00 a.m. to 3 p.m. CST. Click here for the conference schedule.
I'm especially interested in '10 Powerful Strategies for Art Room Organization', 'Unlocking the Common Core through Art', 'Using Cultures to Create a Thematic Curriculum', and 'Teach Your Students to Paint on the iPad'. There's a lot more on the schedule – check it out!
I thoroughly enjoyed the last Art of Education Conference in summer 2013. I consider it well worth the $99 cost. You will get a Professional Development hours. And unlike traditional conferences, you don't need to leave the house!
The presentations are very focused – 10-20 minutes long. You can live chat with presenters during their presentation, and there will be a forum as well. I'm the kind of person who loves to ask questions and interact – I'm really happy the online conference has those features. I don't even have to take notes:  enrollment includes access to  printables and videos after the conference ends.
I plan on grabbing my laptop, settling in on the couch with cup of hot tea and LEARNING.
DEADLINE FOR SIGN UP IS JANUARY 23, 2014. Click here for more info.
Enjoy!