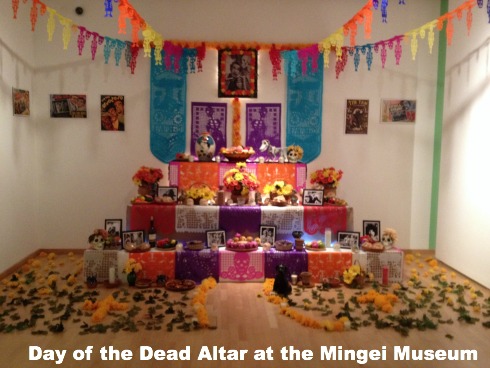 Day of the Dead (Dia de los Muertos) is this week. I just saw a beautiful, colorful DDLM altar at the Mingei International Museum in San Diego that I just had to share. The altar was made by a group including representatives of the Mexican Consulate in San Diego, so you know it is authentic!
The altars are in memory of a departed loved one. This one is in memory of Tin Tan, a Mexican film star who appeared in over 100 films. The signage reads:
Day of the Dead, one of the annual festivities celebrated by Mexicans, is a result of pre-Hispanic and Christian traditions. It is a day where families and friends get together to remember and honor loved ones who are no longer among us.  This celebration begins by setting up an altar containing favorite objects and mentors that reveal the personality of the departed, their talents and preferences. Other classic elements of the Day of the Dead altar are flowers, drinking water, food, fruits and salt, each with a special location and meaning within the altar.  The installed experiential space is valuable for its historical and cultural traditions that contribute to praising both the person the altar is dedicated to and the cultural heritage of Mexico.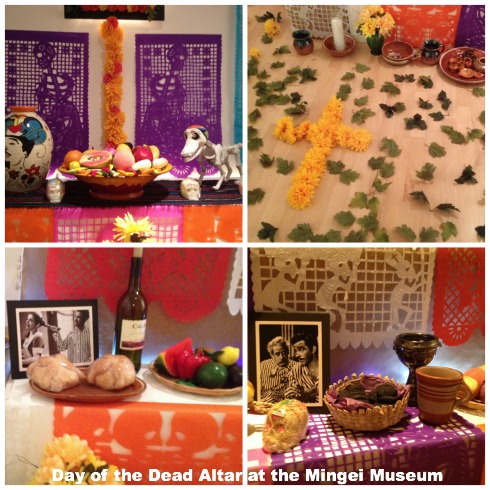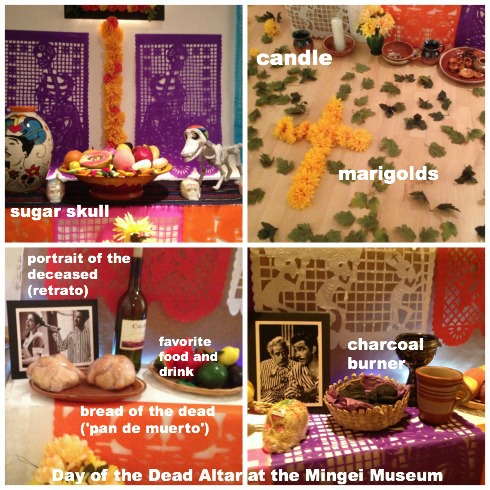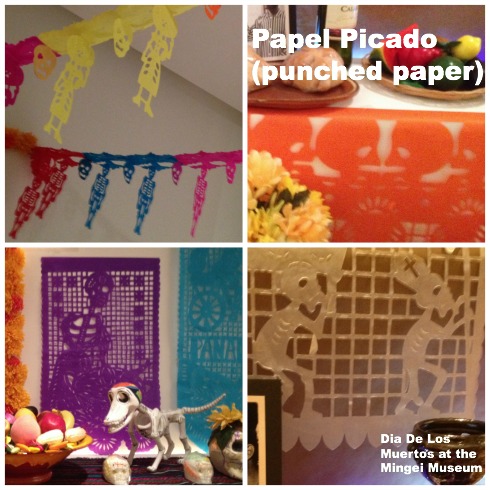 Special Notice for San Diego Teachers and Parents:
Teachers: Do you want to take your class to the Mingei Museum? The Mingei provides free admission for all K-12th grade tours as long as they're scheduled in advance.
Parents: The Mingei is free to San Diego county residents and military the third Tuesday of the month. Monthly Family Sundays offer admission and fun activities for just $5/family. Go to www.mingei.org for more details.
Enjoy!
Are you creating any special projects for Dia de los Muertos?