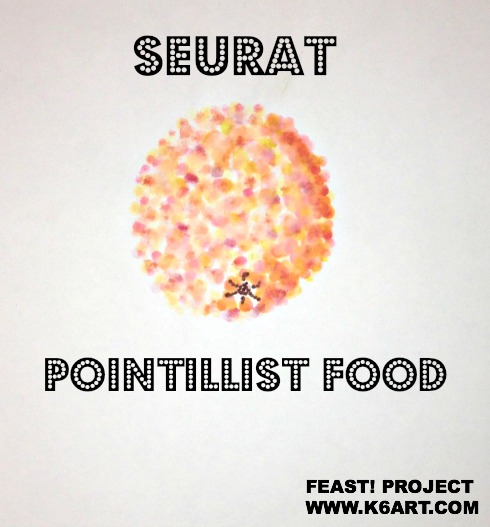 Fourth grade just finished their Seurat pointillism art project. Our students used pan watercolors, Q-tips and markers to make pointillist food! The project was inspired by this project by Jessica Young at Miss Young's Artroom.
Materials:
pan watercolors
Q-tips
colored markers (we used Crayola and Sharpie)
pencil/eraser
white paper, 9″x12″
reference photos (I found dessert images on Pinterest)
loups or magnifying glasses
pointillist note cards (like these – available at walmart.com and galison.com) or books
Day 1: Learn about pointillism
I passed out pointillist notecards and magnifying loups (borrowed from our science lab). It was a lot of fun to see the dots up close.
Next we watched the first half of an AMAZING video: 'Get to the Point' – Georges Seurat and Pointillism  by Artrageous with Nate.
Finally  we completed a color mixing worksheet, using marker dots to make the secondary colors.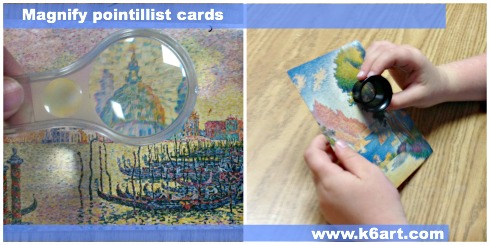 Day 2: Create dots with Q-tip or marker
Students selected a food reference photo, then lightly sketched their basic food shapes on paper. They had the option of using Q-tip or marker to dot their papers.
(warning: we discovered you can't erase pencil lines after they've been painted with pan watercolor. Remind kids to draw lightly!)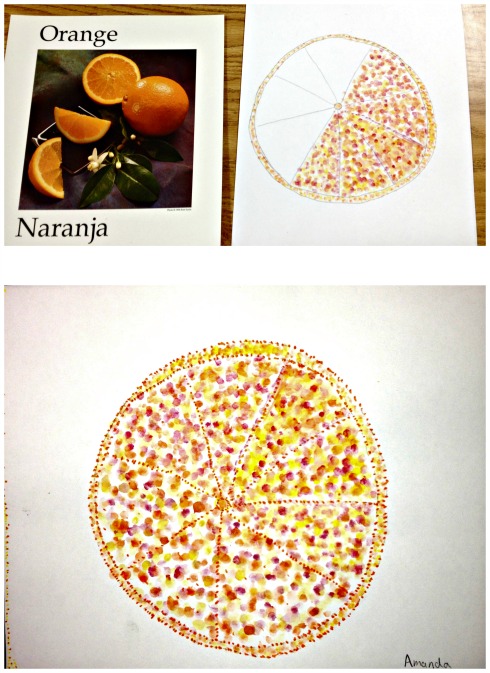 Day 3: Erase lines, add more dots
Students erased their pencil lines from last week, then added MORE DOTS! Some students added a background – a couple even added pointillist borders.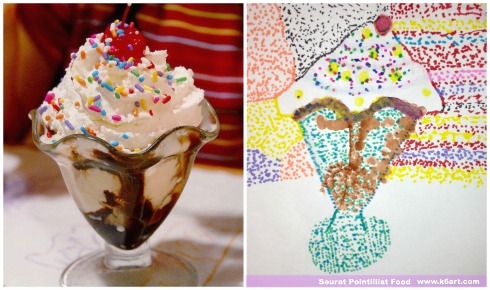 Fourth grade results: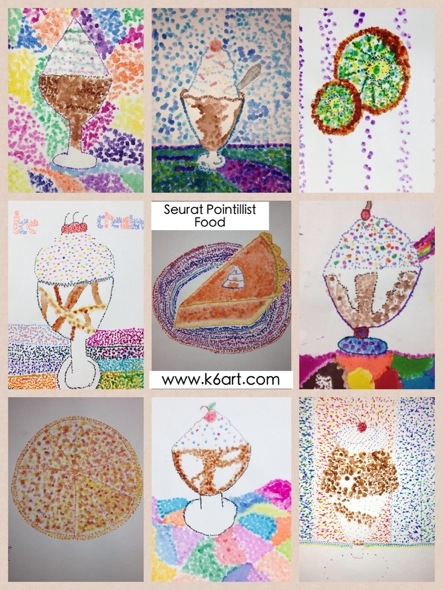 This was a VERY popular and successful project! I will definitely repeat.  Are looking for a group pointillism project? Please check out my earlier post for a Seurat mural.
Here's the cool pointillism video by Artrageous with Nate
This is the first project of our food art series, in honor of the FEAST! exhibit at San Diego's New Children's Museum. This year we will be making food art projects at each grade level.
Do you have a favorite food art project?