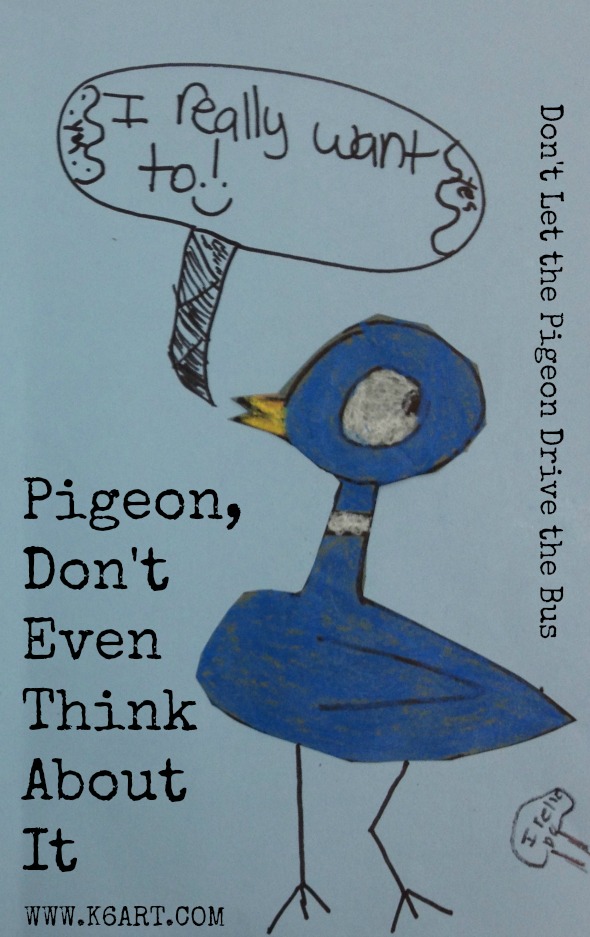 Our first graders love Mo Willem's books Don't Let the Pigeon Drive the Bus!
 and The Pigeon Wants a Puppy
. In both books, the pigeon asks repeatedly for something he's too young to handle. Of course little kids like this book – it's the story of their lives!
After reading the stories, we brainstormed all the things the pigeon should NOT do. Every idea was hilarious – the pigeon shouldn't do karate, use the oven, use the iPad, feed the beta fish or drive Santa's sleigh.
First graders did a directed draw of the pigeon, focusing on simple shapes. On a separate piece of copy paper, then drew a picture of the pigeon acting out those bad choices.
Materials:
9″x12″ gray construction paper
yellow and white Construction Paper Crayons
Sharpie
12″x18″ construction paper for background
scissors
glue sticks
copy paper, 8.5″x11″
crayons or markers
Day 1: Read books. Discuss the pigeon. Pass out copy paper. Use your crayons or markers to draw something the pigeon should not be doing.
Day 2: Draw pigeon on gray construction paper using Sharpie and construction paper crayons.
Now cut out the pigeon. Glue the pigeon and drawing to a large piece of colored construction paper. Use Sharpie to draw legs on the paper.
First grade results:
This project was a hit with my students last year – click here to see more examples.
Enjoy!