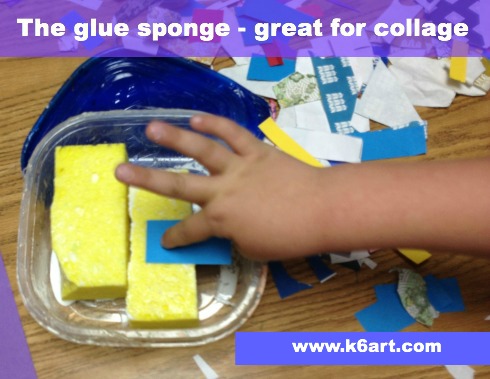 If you like to do collage projects with young students, this post is for you. I just discovered the glue sponge! It is perfect for gluing small pieces of paper. It is much easier and neater than glue bottles and glue sticks, especially for kindergarten and first grade.
To make your own glue sponge, click here. You'll need a lidded plastic container, sponge, white glue, and a spray bottle of water. It was a great way to use my half-empty glue bottles leftover from last year. We made one glue sponge per table, to be shared by four students.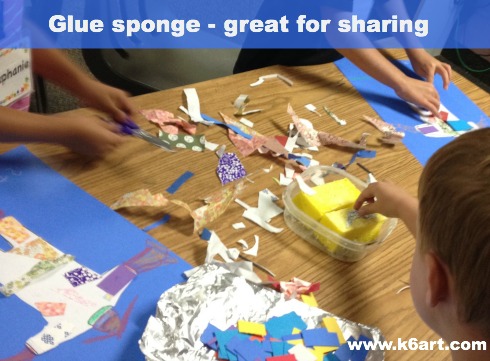 Kinders collaged origami paper, construction paper and copy paper. They loved it. The papers dried smooth and flat. Nothing fell off!
Benefits
much less messy than white glue in the bottle
easier than glue sticks
no waste
easy to share
easy to store
Just mist with water before closing, and turn sponge occasionally. Tip: don't saturate with water – these work best when tacky.
Take a look at the kindergarten paper sculpture in this post from Art for 1170. The glue sponge is good for paper sculpture too!
We'll still use glue sticks for larger pieces of paper, and glue bottles for beads and such. For collage with small pieces of paper, I'm sticking with the glue sponge 🙂
Enjoy!