Today was Day Three of my Paris-themed art and cooking camp. We began by making meringues and ended by beginning our Degas-inspired sculptures.
Meringues:
Meringues are really fun to make. CLICK HERE FOR THE RECIPE (AND VIDEO!). We had lots of practice separating eggs. Then we whipped those egg whites and sugar up, up, up into glossy peaks, and piped them onto the baking sheets using a pastry bag and a star tip. The kids had a lot of fun making 'custom' giant and mini meringues, and trying to make letter-shaped meringues.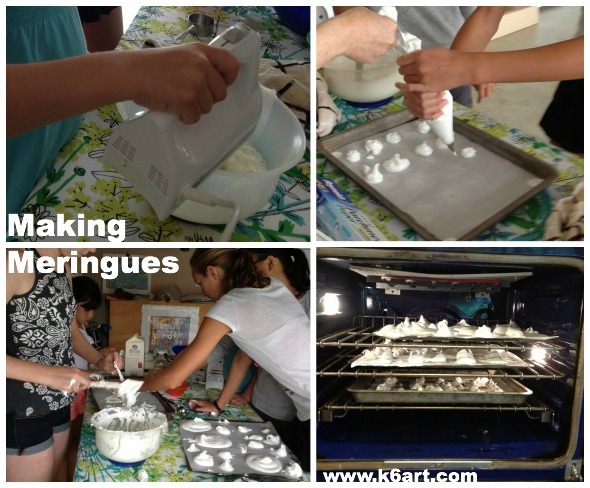 Unfortunately, meringues take forever to bake – at least two hours at 200 degrees F. Then they have to cool. So we won't taste the completed meringues until tomorrow. Not the best choice for a three-hour AM camp. It was humid today – another meringue no-no. Oh well, at least we didn't bake them on the last day of camp.
Degas-inspired Sculpture:
We talked about Degas. Degas was a French artist who is famous for creating snapshot-like pastel artworks of racehorses and ballet dancers. Unlike the other Impressionists, he did not focus on the quality of light, and created his work indoors (Actually, Degas did not consider himself an Impressionist). After his eyesight started to fail, he switched to sculpture. He initially sculpted his famous 'Little Dancer Age 14' in wax on a wire armature; it was later cast in bronze.
We created wire and foil armatures and covered them in plaster wrap. Some kids are creating dancers and some are creating animals. This took about an hour.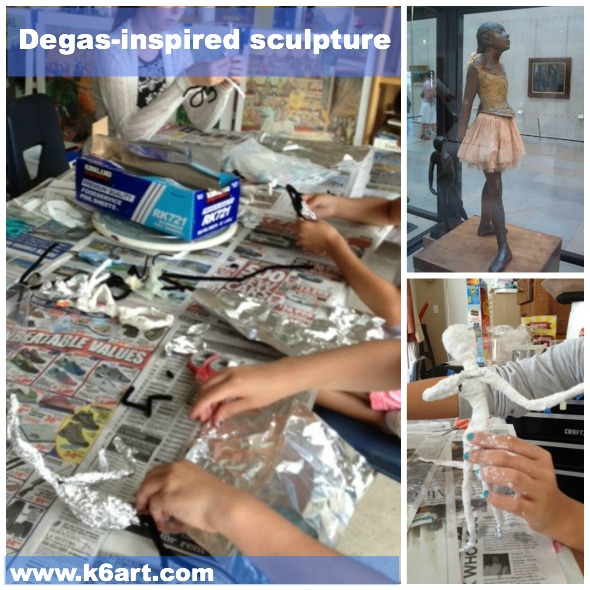 Tomorrow we will make cherry clafouti and finish up our sculptures.
Enjoy (and bon appetit!)
Do you like to cook? Have you taught anyone to cook?