Tomorrow is Day One of my Paris-themed art and cooking camp for kids ages 8-12.  I will be teaching at home – in my garage (art) and kitchen (food). This will be the fourth summer I've offered some sort of art camp, but the first for cooking.  Here is the schedule for the week:
Monday: Monet Monday: We will begin by making banana-Nutella crepes and end with an impressionist art project.
Tuesday: Eiffel Tower day: Start by baking madeleines, end with Eiffel Tower art project.
Wednesday: Degas day: Start by baking meringues, end with French ballet-themed art project.
Thursday: Seurat day: Start by making cherry clafouti cake, end with pointillist art project.Take a vote: chocolate or cheese fondue for Friday.
Friday: Fondue Friday: Start with French children's story 'The Red Balloon', end with fondue.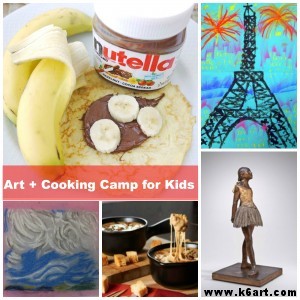 I enjoy cooking with kids just as much as I enjoy creating art with them. Stay tuned for updates as the week goes on.
Enjoy!