This year I tried a new classroom management system in the art room.  It worked so well I had to share it. If your classes are getting a little unruly as summer approaches, it maybe time to review your rules.
I have just six art room rules, which the students have to recite at the beginning of class. They are:
Rule #1: listen when your teacher is talking
Rule #2: follow directions quickly
Rule #3: work quietly
Rule #4: raise your hand

Rule #5: make smart choices

Rule #6: clean up after  yourself
During class, I observe both individual and whole class behavior. Both are recorded and sent to the classroom teacher using my art room support report.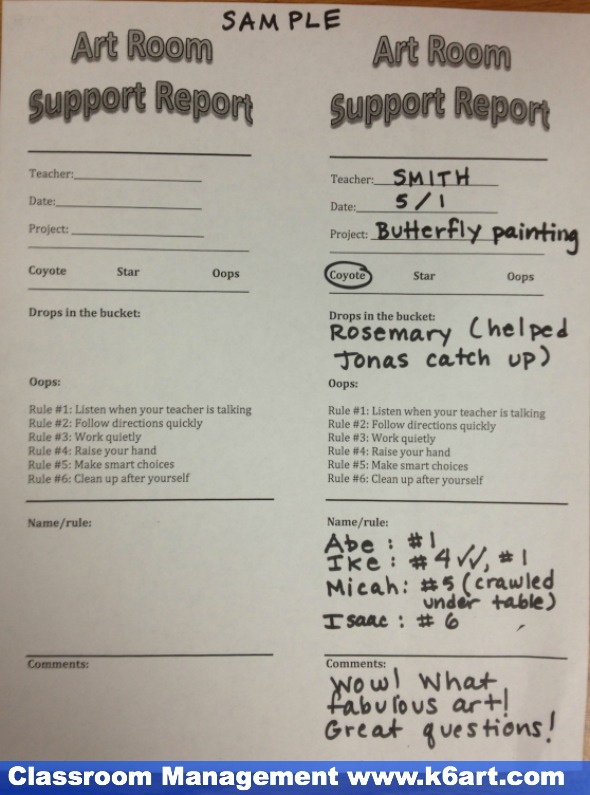 The form makes it super-easy to record individual behaviors as they occur, both positive and negative. All of our support teachers (music, science, P.E., media center and computers) use similar reports, although they have different rules.
Individual behavior:
Positive:
The section marked 'Drops in the Bucket' is for unsolicited extra-kind behaviors that make kids feel good. Helping struggling students or prepping work for a child who is absent are just two examples of behaviors. The entire staff gives out 'drops' which are then entered into a whole-school raffle for a prize. It is a really nice part of our school culture.
Negative:
If a student breaks a rule, I just write down the child's name and the rule number. A check means the student broke the rule more than once. Rule #5 ('make smart choices') covers a lot so I have to specify the behavior.
Group behavior: smileys and frownys
I draw a smiley face (positive) and a frowny face (negative) on the whiteboard, and keep a tally. I give out lots of smileys, generally for listening, sharing, hard work, asking good questions. The rare frowny is almost always for noise.
(This is working well – the smileys have trounced the frownys all year!)
At the end of class, I rate the class behavior  'coyote' (best), 'star' (good) or 'oops' (unacceptable).
The classroom teachers reward or give consequences based on the rating.
I like this because:
It is very specific, both in the rules and who broke them

The classroom teacher can reward the vast majority of kids who follow all the rules

I can try new strategies with the few who do not
It helps me communicate with the teachers
I'm not going to lie – I learned this system from a post on the Teaching Palette. A huge thank you to Katie Jarvis, art teacher for developing these rules.
Want to try it? Here is my art room rules PowerPoint based on Ms. Jarvis' system.
Enjoy!
 Do you have rules or procedures that work well in the art room?