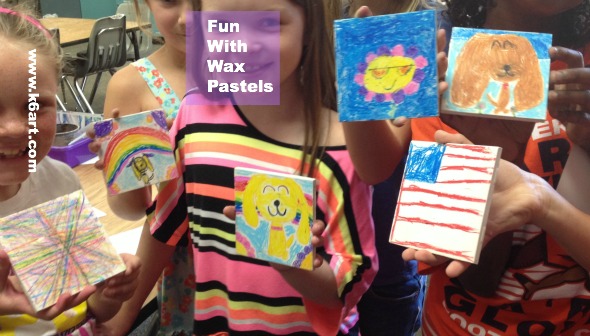 Isn't it exciting to try out a new art supply? I received a big pack of Reeves Water Soluble Wax Pastels  in a gift bag from Col Art. Today I tested them out with a group of second graders.
I really wanted to try printing with the wax pastels.  Here are some of our experiments: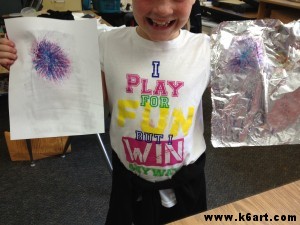 E. drew wax pastel fireworks on aluminum foil. She placed a dampened piece of copy paper on the foil and rubbed. She was very pleased with her wax pastel mono print!
I was curious to see how the wax pastels worked on different surfaces. Next we drew on unglazed white tile.
The pastels glided on the unglazed tile. They didn't smear like oil pastels. But could we print with them?
I had some thin white paper on a roll that I use for gyotaku prints. We dampened the paper with a sponge, placed it on the tile and rubbed. The wax pastels printed nicely.
I tried printing with heavier sulfite drawing paper as well.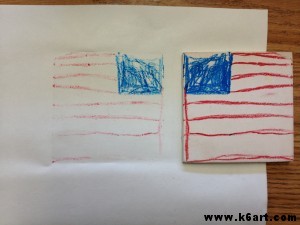 I noticed that students used up more pastels when drawing on tile than when drawing on foil. I will try printing with different papers before teaching the lesson to an entire grade.
Overall, the wax pastel printing experiments were successful. There was no clean up – the students didn't even need to wash their hands after printing. The students went home happy with a tile and prints. So much fun!
Enjoy!