Hello from San Diego!
I opened my computer today and found a note from Elizabeth at the wonderful Dream Painters blog. She nominated K-6 Art for a Premio Dardos.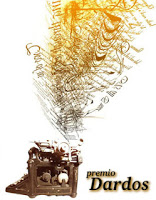 This is a virtual award sent as a 'gift' from one blogger to another as "recognition for the creativity, effort and dedication" we each put  into our blog. The award originated in Spain around 2008-2009 and has been sent from blogger to blogger ever since.
To accept the award, you simply
Link back to the person who nominated you
Display the award icon and
Nominate others whose blogs you admire for these qualities.
Thanks so much Elizabeth! I am a big fan of Dream Painters. Elizabeth is so positive and enthusiastic. I appreciate the gift.
It is really hard to pick just a few from all the FABULOUS art ed blogs I follow. I'm going to go with the ones I visit frequently. Here they are in alpha order:
Wishing all of you a relaxing end of year and happy start to 2013!