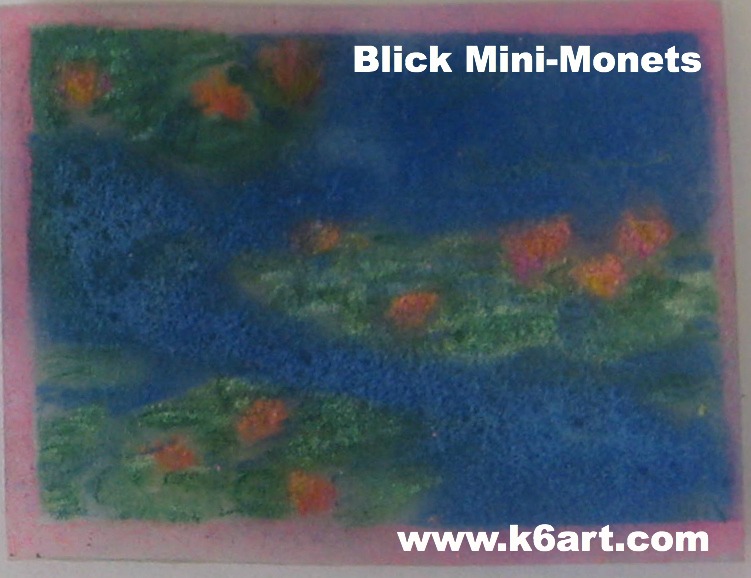 Do you love impressionism? Want to create memorable artworks? Try this Mini-Monet lesson plan from the Blick website. It even has an instructional video!
I adjusted the materials list from the Blick website. Here is what I used:
Shrinky Dinks shrink plastic, Frosted Ruff 'n' Ready, size 8″x10″, cut into quarters (tip: cut it on the paper cutter)
chalk pastels and spray fixative OR
colored pencils
easily removable masking tape, such as artists tape
color photos of impressionist art from books, notecards and calendars
oven or toaster oven and oven mitts
baking sheet
fine-tip gold pen (optional)
Tape the Shrinky Dink, rough side up, over a section of the impressionist book or note card. Trace image onto Shrinky Dink. Use short strokes to mimic Monet's and other impressionists' style.
Bake in the oven according to directions on the Shrinky Dink package. Shrinky Dinks shrink when baked, starting at 4″x5″ before baking and about 2″x1.5″ after. When baking Shrinky Dinks, do not remove from oven until the plastic 'comes up' (folds and shrinks) and 'comes down' (flattens). Count to 30, then remove.
Kids are going to want to watch this!  If you are doing this in a small group setting, let them watch the shrinking process through the oven window.
If you use chalk pastels, you will need to spray them with a fixative AFTER BAKING (hair spray is fine). If you don't, they more likely to smear. You do not need to spray if you used colored pencil.
As a finishing touch, color the thickened edges of the shrunken artwork with gold marker.
Add a magnet, pin back, display as a group or on mini-easels.
This project would look great with Van Gogh's artwork. Students will like tracing his short brushstrokes with pastel or colored pencil.
Do you have a favorite impressionism project? Leave a comment!