Stop the presses!  I just discovered a FABULOUS source for online children's picture books. TumbleBooks, available online for free through some Public Libraries in the U.S.
Some libraries require viewers to hold a library card, but some do not.
WANT TO TRY IT OUT? Google 'Tumblebooks free' or try my steps below.
STEP 1: 
Start by clicking  here and CLICK ON 'Tumblebooks' or this icon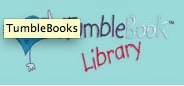 STEP 2:
Select a book for computer or iPad
Here are three winners for young children.
1. Art's Supplies by Chris Tougas.   Also available for iPad.
3. Purple, Green, Yellow by Robert Munsch and Helene Desputeaux
BONUS: SUB PLAN PLAYLIST FOR GRADES K-1
The three books are available as a ready-made playlist running 17 minutes. Project and go!
Go to your local library's website and see if they offer Tumblebooks. Some school districts offer it as well – check out the school library's website. Tumblebooks has some iPad books for kids as well (note: I was unable to read Tumblebooks on my iPhone).
Enjoy!! Leave a comment if this works for you. Do you have a favorite Tumblebook?
Want more? Check out these additional art books to read online for free.
p.s. Got an iPad? Our 4th grade photography lesson is now available as a free download from the iBookstore.
You need an iPad to view it.
iPad Alphabet Photography

Rina Vinetz, Cara Spitzmiller & Angie Tremble

Category: Education