Bottle caps are abundant, colorful and free – a perfect art supply! Second graders worked in small groups to create bottle cap mosaics. We used an under sea theme to tie into our whole-school ocean education program. The art will be displayed in the school lobby.
Prep:
Paint foam core or cardboard if desired (I painted all the boards the same color – no matter how they are arranged, they will make a unified design).  Sort bottle caps by color. Lay out overall design on prepared board (I used a paper template or chalk for this step).
Assembly:
We used Aleene's Tacky Glue to attach the caps to the painted cardboard. I squeezed out the glue onto paper plates and the kids applied it using popsicle sticks. Kids worked in groups of 6-7 to complete their murals.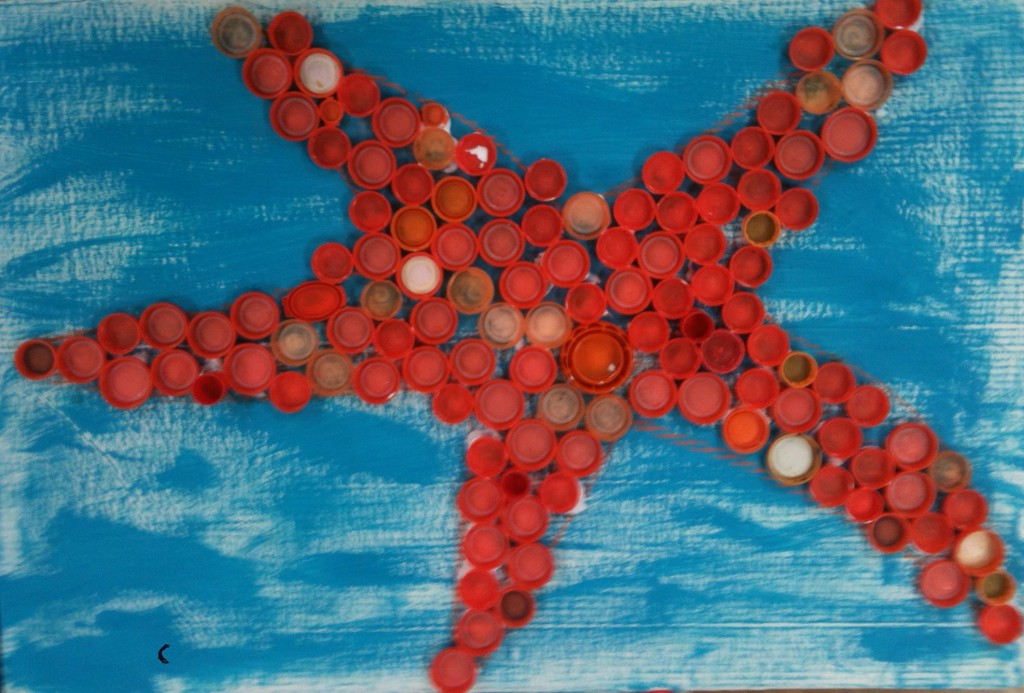 I planned the color scheme based on the most popular bottle caps colors. We had lots of water, soda and Gatorade caps in white, green, red, dark blue and orange. The least common colors were yellow and purple  – we had to use these rare colors as accents only (my dream of a giant purple octopus mural was out).
Are you looking for a permanent bottle cap mural? I bought the book, Bottle Cap, Little Bottle Cap by artist Michelle Stitzlein. The book has detailed directions for creating murals using boards, electric drills and special screws. Parents at our school are preparing outdoor art using this method right now, and I will post their photos next week.
Inspiration for this project comes from Adventures of an Art Teacher and Art With Mr. E. Thanks!