Shrinky-Dinks are shrinkable plastic sheets. They are available in frosted, white, brown. You can draw on them. There is a variety you can run through your printer. They are also known as 'Shrinkles' in the UK. A similar product is Grafix?
If you are unfamiliar with this product, you are in for a surprise. When baked, Shrinky Dinks shrink to 1/3 their size and 9 times their original thickness.
Materials:
All you need to do is cut a sheet of Shrinky Dinks into 1/4s. Ask kids to draw on the rough side. Use sharpie and colored pencils. You can cut into a shape at this point. If you are making a pendant or earrings, punch a hole before baking.
If at all possible, let kids view the baking/shrinking process. It is magical!
My colleague Nancy prints out masterpiece coloring sheets and reduce them on a photocopier. Students trace them in sharpie and colored pencil. She shrinks them in the school oven. Instant mini-masterpiece!
Nancy also loves illuminated manuscripts. She has her students design a fabulous first initial and trace onto shrinky dink.  She finishes with a magnet.
Tips:
Ask kids to sketch first. Rough 'n' Ready is see-through so they can easily trace a finished sketch.
White, black and brown shrinky dinks are not traceable.
Provide lots of small size images for tracing: cartoon characters, line drawing of animals are popular.
Punch before baking
When baking, let the plastic warp, shrink and re-flatten in the oven. Do not pull out when warped! Allow plastic to remain in oven 30 seconds after shrinking.
Listen up: YOU CAN DO AN ENTIRE ART CAMP JUST USING SHRINKY DINKS!!! This is by far the most loved and versatile art camp material of all.
Need more inspiration? Go to Etsy and type 'Shrinky Dink' in the search box. Look what you can do!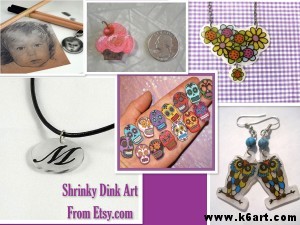 Want more fun art camp ideas? Check out my art camp part 1 post. Money, liability and safety are covered in art camp part 3.