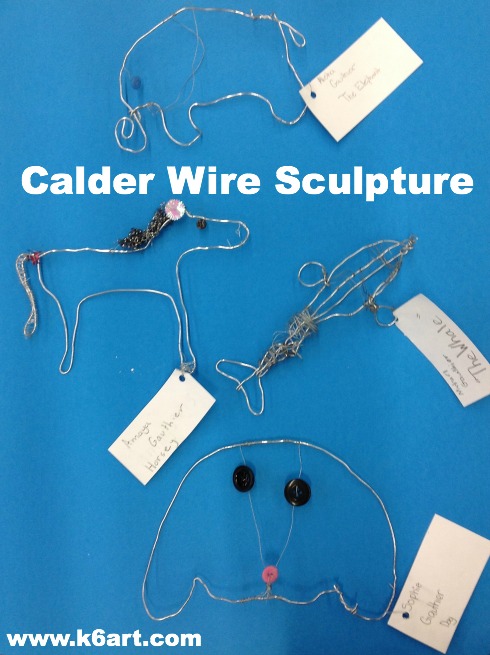 The 5th graders showed off their amazing wire sculptures at the art show last week.  We had about 70 – the biggest group to date. I want you to see some of the best examples, and how we displayed them.
How to Display Wire Sculpture:
Our silver-colored sculptures look best against a solid, dark background. We hung blue vinyl table covering (from a roll) across a wall. We attached twine in front of the covering, and hung the sculptures using paper clips (opened to form an 'S' hook).
Kudos to the parent volunteers who helped out in the art room every week. We really appreciate your efforts.
Thanks to our fabulous art show chair and her husband for designing and installing this display. That was a lot of hard work!
Wire sculpture is so much fun, and it's not messy. Learn about Alexander Calder, the famous (and fun!) artist whose work inspired this lesson. Want to know how? Check out my previous Calder wire sculpture and Calder wire portrait posts complete with PowerPoints. *NEW* Read two Calder books online for free!
Good luck!
I am an affiliate of Blick Art Materials.  I have been using Blick 14-gauge sculpture wire  for nine years and love it!
Note: post updated on 11/23/13.