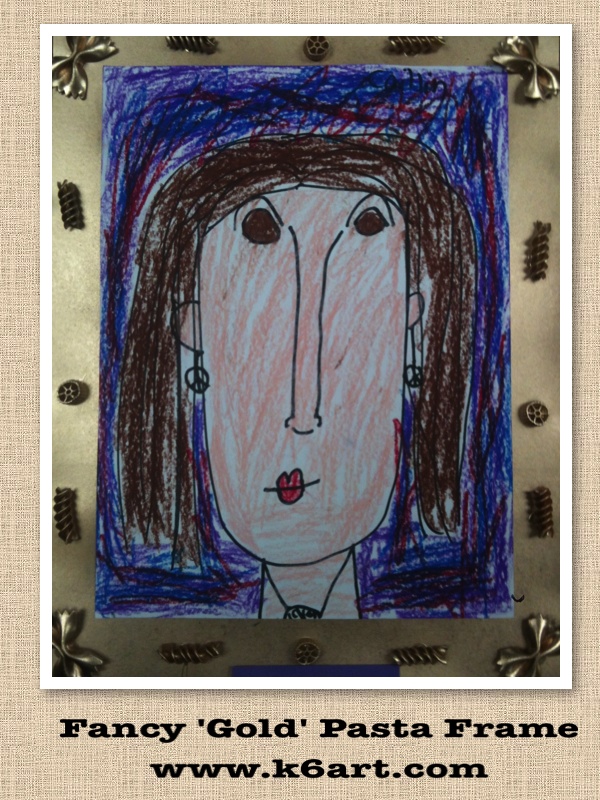 Looking for a fun and pretty Mother's Day project for kindergarteners and first graders? First graders just put the finishing touches on their Mother's Day project: a shiny gold frame made with pasta! Bonus for primary students: this project reinforces pattern lessons taught in the general ed. classroom. It's two lessons in one.
Materials:
Tag board
White glue (Elmer's)
Template cut to size of art you wish to frame
Dry pasta (we used four different shapes)
Gold spray paint
Prep:
Cut tag board to desired dimension. Center template on tag board and trace with pencil.
Lesson:
Students glue pasta on the outside edge of their tag board. Explain to students we can't put pasta in the center of the frame because that is where the art will go.
Dry on drying rack. Be sure to dry in horizontal position ( you may even tell the kids to hold the art 'flat' as they carry it to the drying rack).
Option 1: create pattern with pasta. We alternated pasta to create an A-B-C-B-A pattern.
Option 2: student's choice! So fun and unique.
Finishing the project:
Spray the pasta with gold paint. No need to paint the center of the frame. Spray outside!
Insert art and wait for the oohs and aahs!
The pasta/glue bond is quite strong, especially if you encourage kids to use a big dot of glue. In fact, the inspiration for this project came from my son's kindergarten teacher. I have been carrying around that pasta frame holiday gift for over 10 years, and it is still intact 🙂
We added the Modigliani Mother's Day portraits I wrote about in this post.