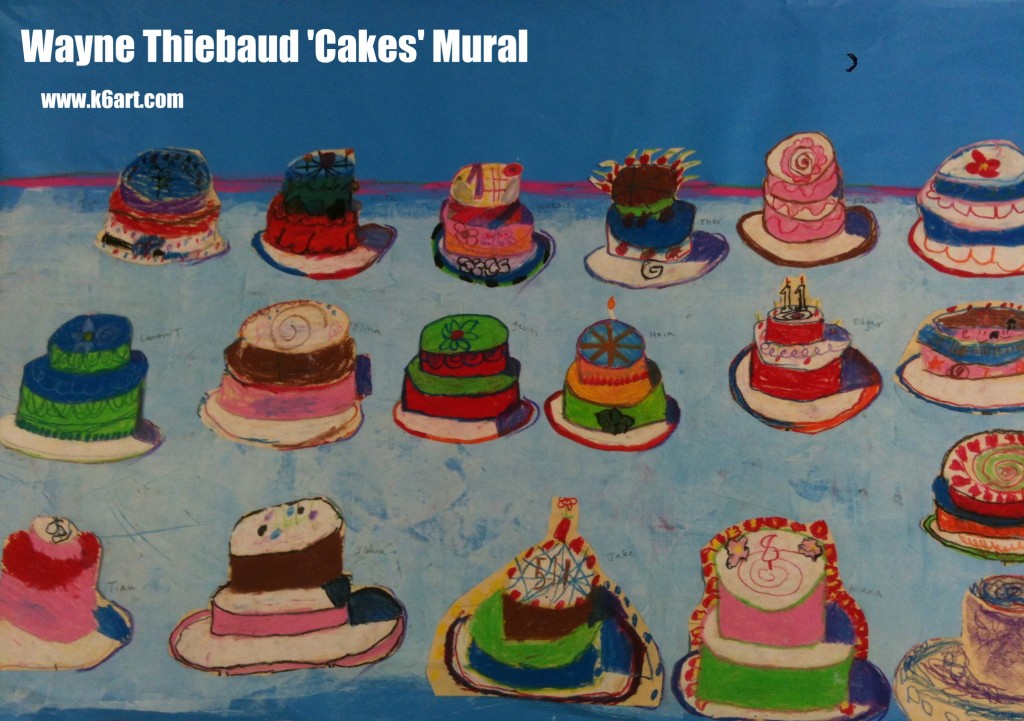 This is a universal truth:  kids love dessert.  Second grade recently completed their Wayne Thiebaud group art mural based on Thiebaud's famous artwork, "Cakes".
We began with my Wayne Thiebaud Powerpoint. We discussed repetition of simple shapes, variety, use of thick paint, horizon line and shadow. This year we also discussed halation – the vibrant lines of color Thiebaud uses to outline his work. If you are unfamiliar with halation read this excellent Thiebaud post on Art for Small Hands.
Next we watched a great 7-minute long Thiebaud video from CBS this Morning.  Here is the link.
Materials:
Drawing paper, 9″x12″
pencil and eraser
oil pastels
scissors
glue stick
bulletin board paper (allow 5 foot length for 22 students)
tempera
Students drew the basic cylinder cake first in pencil, then in oil pastel. We outlined in bright colors.  Because we were making a mural, for consistency students added purple shadows on the right side of their art.
The kids had a fabulous time 'decorating' their cakes, again with oil pastel. We had a 'no words' rule, but numbers were OK.
Students cut out their cakes and covered the backs with glue stick.  I arranged the cakes on painted bulletin board roll paper.
I made two murals: a 9 foot mural for 45 cakes, and a 5 foot mural for 22 cakes.  Next year I will make one 5-foot mural per class as the big one was beautiful but too unwieldy.
After the art show I will cut apart the mural. The second graders will trim and mount their cakes onto 12″x18″construction paper.
Have fun!
P.S. Want to try a digital Thibaud art activity? Try the National Gallery of Art's
Thiebaud 'cake maker' interactive
UPDATE: NEW! Click here for my new lesson, Wayne Thiebaud Geometric Desserts. New video and Common Core connections.