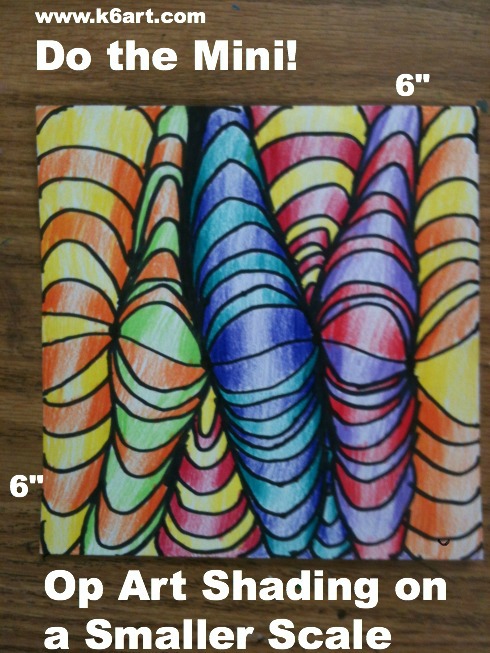 This Bridget Riley-inspired colored pencil op-art line shading lesson is extremely popular. I first saw it on Art With Mr. E., then on Teach Kids Art, and finally a post on Artisan Des Arts with a teaching video (wow!). If you are unfamiliar with this project please start out by visiting these excellent blog posts.
My small contribution to all this awesomeness is …small. Last year I tried this project with 5th grade using 9″x12″ white paper. Well, it took a long time…too long. The full size project took at least 4 classes and many students lost interest.
I decided to try a smaller format. At Mr. E's suggestion I went down to a 6″x6″ square. SUCCESS! The 4th graders were able to complete the 6″x6″ project in 2-3 40-minute sessions. They were very proud of their artworks.
For detailed instructions, please view the teaching video in the link above. However, for the mini 6″ version of this project, start with 4 dots on the wavy line
Give it a try in any format.
More Bridget Riley op-art resources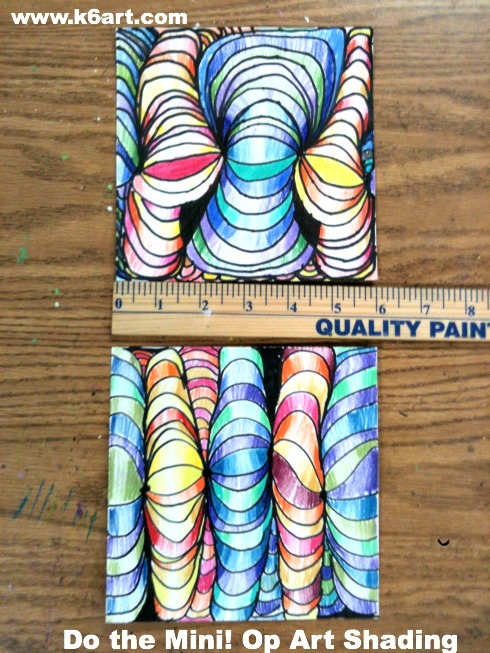 Enjoy!