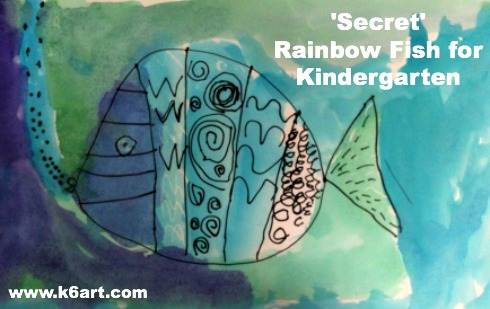 Looking for a kindergarten art lesson? Try this line lesson based on the popular book 'The Rainbow Fish'.
Materials:
white construction paper 12″x18″ (use paper sturdy enough for watercolor)
Sharpies
white crayons
watercolors: purple, blue and green (cool colors)
Day 1: Draw
Read the book The Rainbow Fish
 by Marcus Pfister (or listen to it online for free!) Point out the cool colors and name any lines you see.
Using Sharpies, students draw the outline of the fish as a step-by-step. I tell students to draw a large 'rainbow' for the back, 'smile' for the belly, and triangle for the tail. We divide the body with a few vertical lines.
Kinds of Lines
Each section is filled with a different kind of line.  We use
spirals
diagonal
wavy
zig zag
vertical
horizontal
dotted
dashed
Add  SECRET (white crayon) lines
Now for the SECRET! Use the white crayon to add more lines around and in-between your black lines (the white lines are hard to see and therefore 'secret'). For best results, encourage students to press hard with the white crayon. Tell students you will tell them the secret when we paint the fish.
Day 2: Paint
Paint with purple, blue and green watercolors. Listen to the 'oohs' and 'aahs' as the SECRET lines pop out from the watercolor. It is OK for colors to overlap (the cool colors mix beautifully).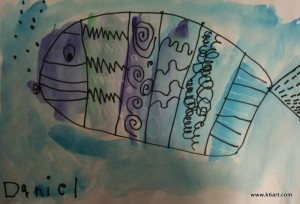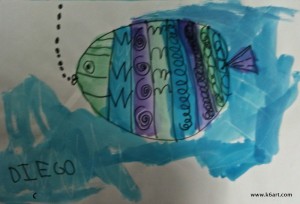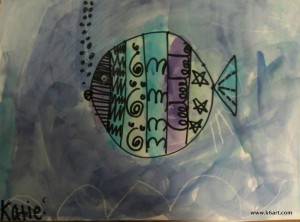 If you have extra time after clean up, read The Rainbow Fish again (or try another book in the series such as Rainbow Fish to the Rescue! or Rainbow Fish and the Big Blue Whale
).
Enjoy!

Do you have a favorite story book for kindergarten art?
NOTE: This post was updated on 9/2/13.