I have admired the fabulous yarn-wrapped cardboard fish mobiles shown on a couple of elementary art blogs. I wanted to do the project with kindergarten as part of a whole-school ocean-themed art installation to be hung later this spring….
Materials:
Thin cardboard approx 8″x10″
black marker
scissors
crayons or markers
yarn cut in 6 foot lengths, one per student
large paper clips (for hanging)
hole punch (for hanging)
optional: bottlecaps and tacky glue/glue dots for eyes
Part one:
We started with thin cardboard rectangles about 8″x10″. We did a dot-to-dot directed draw of a simple fish shape.
Then the students cut out the fish shape. Because we used thin cardboard, 95% were able to cut the fish without help.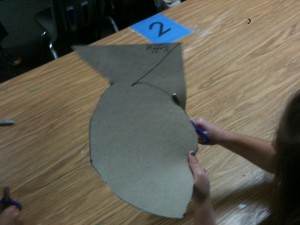 Now kinders add four dots to the top edge of the fish, and four dots to the bottom. A few kids made their dots too close together….so I'd say 90% did this task independently.
The kids use scissors to cut slits along the edges of the fish, stopping at the dots. 100% were able to do this task independently.
Now color both sides of the fish. We used regular crayons (I wish I had construction paper crayons to brighten the dull gray cardboard…next year!).
Part two:
Students finished coloring both sides of their fish. Each received a six-foot length of yarn (cut by me, lest you think I didn't have ANY prep on this project…..) and wrapped the yarn around and around and up and down across their fish.
Wrapping the yarn was tricky for some students. I found out kids were more successful with the yarn wrap when I modeled it in front of the room (as opposed to on my document camera). I'd say about 70% could do this independently on their first attempt.
Optional: glue on eyes.
To hang the fish: use a hole punch to make one hole near the top edge and one at the bottom edge.  Open a large paper clip to form a 'S' hook.
Connect your chain. I was able to make a hanging chain of five fish.
Inspiration for this projects comes from this post on the Fem Manuals blog and this post on the Deep Space Sparkle blog.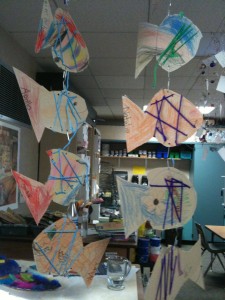 I believe that a lot of my lesson plans (at all grade levels) could be tweaked to increase student independence.
What do you think of 'kinderpendence'?